EDWARDSVILLE, Ill — Victims and family members affected by the December tornado that struck an Amazon facility in Edwardsville joined area leaders for a Tuesday press conference.
The conference was at noon at Mt. Joy Baptist Church in Edwardsville. Attorneys discussed OSHA-suggested improvements at that facility after six contractor-employees were killed there during severe weather on Dec. 10.
Nationally-known personal injury attorney Benjamin Crump and attorney Jennifer Hightower joined Deon January, the mother of tornado victim DeAndre Morrow, along with area leaders and four surviving victims who said they now suffer from PTSD. There were other victims who wanted to be there but had to work, Crump said.
"We believe (the tragedy) was completely preventable if Amazon lived up to its words," Crump said. "And those words were 'We aim to be Earth's safest place to work. We are committed to ensuring the safety and wellbeing of all Amazon employees every day.' Well, that wasn't true on Dec. 10."
Crump claimed that workers asked that day if they could go home to shelter from the storm but were threatened with losing their jobs if they did so.
"Because of Amazon's apathy and greed, I had to do what no mother should. Bury my child," January said.
With tears falling, January described her son as an aspiring entrepreneur. He also wanted to help the homeless and open a boys and girls club, as well as laundromats and car washes. Now he won't get to do any of that, she said.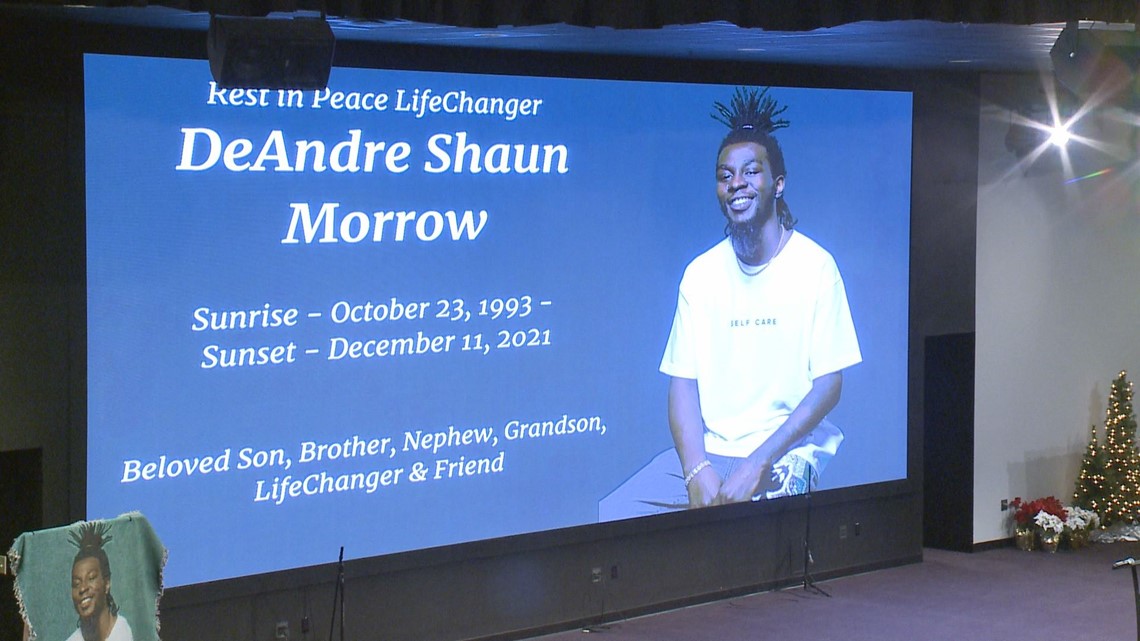 A photo of DeAndre sits in her home, adorned with the words "Jerrett loves you" and a heart, drawn by DeAndre's little brother.
"It breaks my heart that DeAndre was scheduled to take his day off but was called from dispatch to work an extra shift," she said. DeAndre had been working overtime and extra shifts to earn extra money from holidays and to pay off a car his mother bought him. "It saddens me that Mother's Day is right around the corner and he's not going to be there with me on that day."
"The tornado happened by chance, but Amazon's cruelty was a choice," January said.
Just last week, Occupational Safety and Health Administration (OSHA) investigators determined that while Amazon's severe weather emergency procedures met minimal federal safety guidelines, the company should make improvements to further protect workers and contract drivers.
OSHA issued a "hazard" letter to Amazon, requiring the online retailer to review its severe weather emergency procedures. That letter recommended three areas for improvement at the Edwardsville warehouse:
Ensure that all employees are provided training and participate in emergency weather drills
Include site-specific information in severe weather emergency plans
All audible warning devices and locations of the device should be clearly identified in the severe weather emergency plan and readily accessible
Lawsuits have been filed on behalf of a group of drivers who survived, as well as relatives of Morrow and another worker who was killed, Austen McEwen.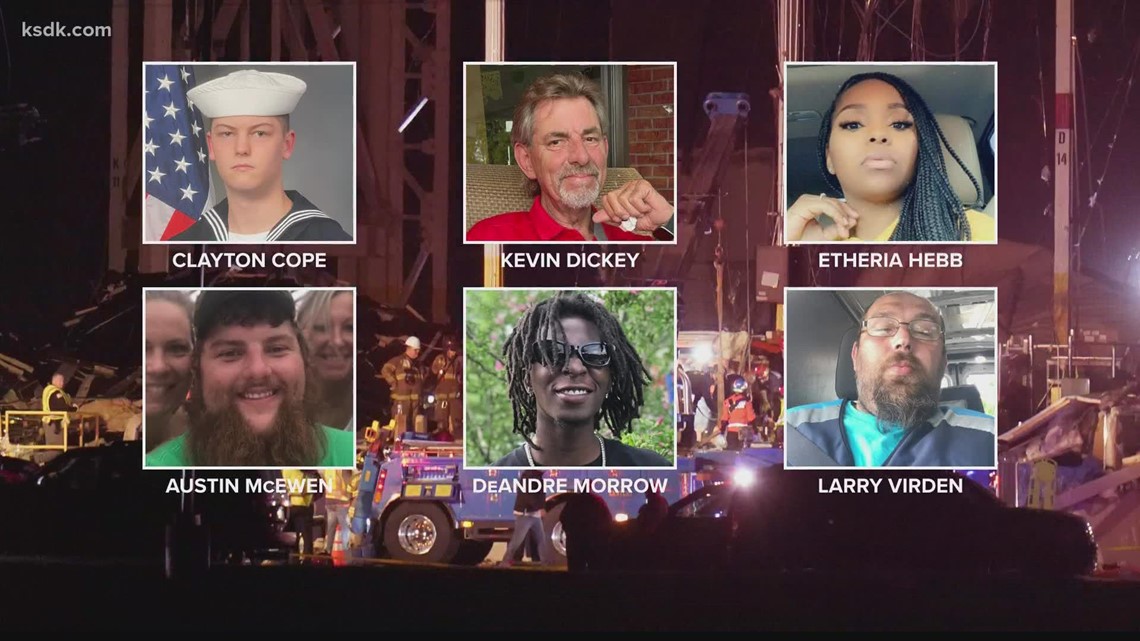 Amazon has previously declined comment on the lawsuits, instead telling reporters their officials are focused on supporting their team and those affected by "this tragic natural disaster."
Delivery driver Deontae Yancey said he started the day with a coat on but discarded it in the afternoon as it became strangely warm.
"I actually had customers that were wondering why we were still delivering packages, knowing there was a tornado coming. And I just told them 'because Amazon wants me to.' I was just doing my job," Yancey said.
Driver Jada Williams had only been working there for two weeks. She said she was warned to return to the warehouse by her cousin, who also worked at Amazon. The tornado hit as soon as she got there, and she ran for the shelter area.
"It was so many people yelling and screaming, I was trying to calm people down. I started having a asthma attack...." she said. "Ever since that happened I've barely been getting any sleep. It's like, every time I try to go to sleep I jump up and I think about what happened in the building."
An April 26 Hazard Alert Letter from Aaron Priddy, director of the OSHA Fairview Heights area office, outlines the concerns. He first notes that the megaphone used to activate the shelter-in-place procedure was locked in a cage and inaccessible when the tornado hit.
Priddy said some Amazon workers and independent contractors did not know the location of the facility's severe weather shelter, nor did they recall ever participating in severe weather drills. When managers began directing employees to find shelter about 10 minutes before the tornado touched down, some mistakenly went to a bathroom on the southern side of the building, unaware the designated storm shelter was on the northern side. All of the people who died were in that southern bathroom.
Delivery driver Jamarco Hickman said he remembers leaving work that day looking forward to the holidays.
"Christmas was approaching. December is a month, which Amazon refers to as peak season, so my van would be stuffed with 300 packages sometimes," Hickman said.
There was an incentive where if drivers delivered 200 packages, they'd get a $25 gift card, "which I felt wasn't a fair tradeoff but still I continue to work hard every day busting my butt," he said.
Eventually, he was told to come back to the warehouse, and he was sheltering inside when the tornado came through.
"I cannot still shake off the sound of those walls collapsing, the sounds, the roar of that tornado when it slammed into that building ... my fear of death I cannot put into words," he said. "I was terrified, my coworkers were terrified, stuck in the bathroom for hours until we could be rescued."
He said that he had never received any communication that day from Amazon warning about the weather or asking him to be safe.
"I am human, we are human, not a commodity that makes Amazon rich. If Amazon can contact me about making extra deliveries, Amazon can contact me to let me know when a tornado is known to be incoming," he said.
Hickman said he still struggles mentally and financially. He's in counseling and struggles with anxiety and depression. His car was lost in the tornado and he's still without personal transportation. He hasn't received any assistance from Amazon despite it being promised, he said.
"And when I was called back to work, because I did not have the transportation I was fired on the first of the new year," Hickman said.
Amazon spokesperson Kelly Nantel said the company has already increased their safety and emergency preparedness drills and will consider any OSHA recommendations that are not already in place.
In a statement, she added "The tornado that hit our delivery station was extreme and very sudden, with winds that were much like the force of a category 4 hurricane, and we believe our team did the right thing, moving people to shelter as soon as the warning was issued."
Nantel says all Amazon buildings -- including the Edwardsville delivery station -- have emergency plans that identify exit routes and shelter areas.
OSHA officials said Amazon workers don't have to respond to the letter or implement any of the recommendations within.
OSHA's Regional Administrator Bill Donovan said the Amazon collapse highlights the need for more comprehensive workplace emergency plans.
"Employers should re-evaluate their emergency plans for the safest shelter-in-place locations and prepare before an emergency to ensure workers know where to go and how to keep themselves safe in the event of a disaster," Donovan wrote in a press release.