List: Holiday events in St. Louis for you and your family this year
Check out these events for the whole family for the 2022 holiday season.
Ning He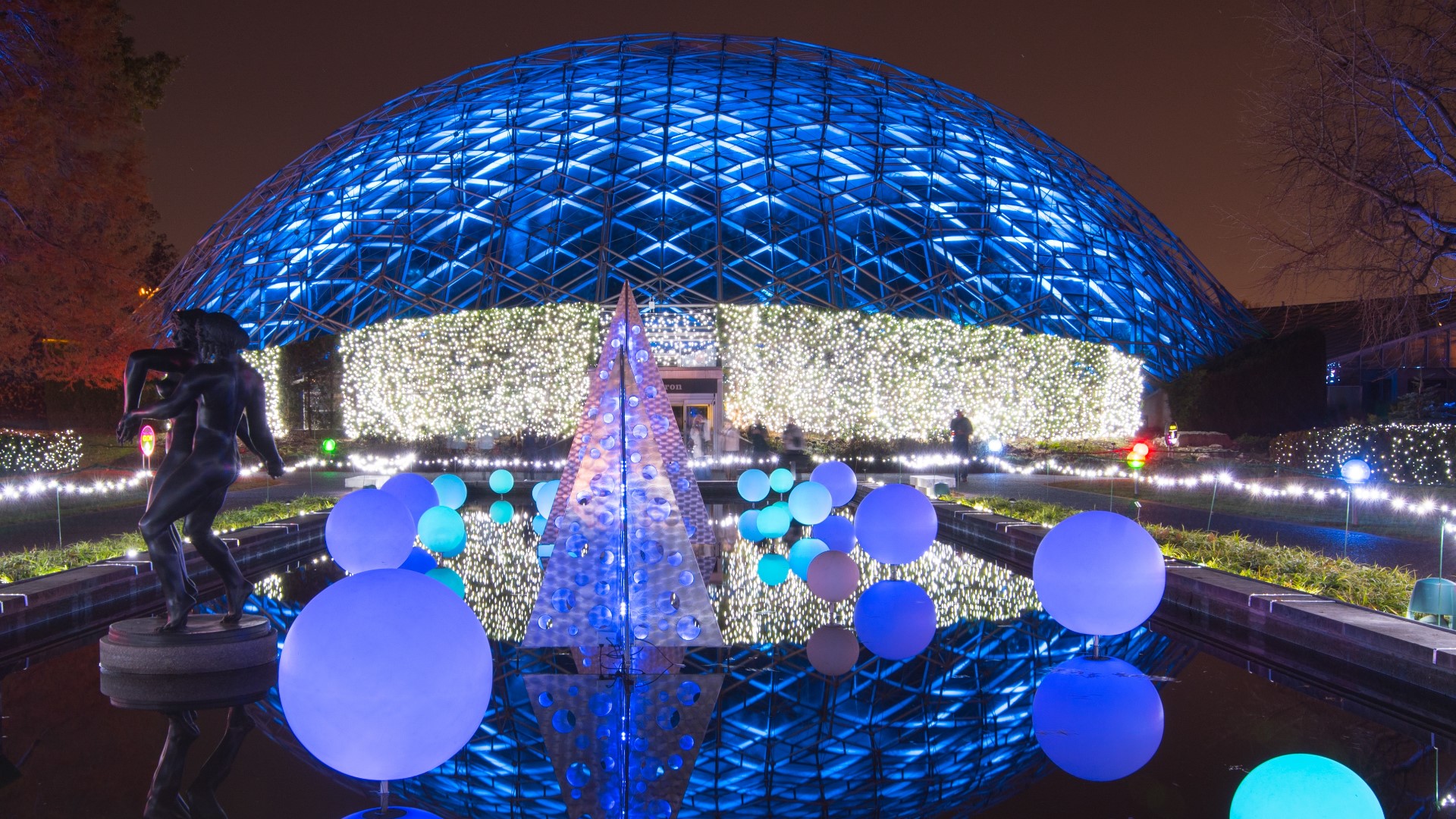 Thanksgiving is still more than a week away, but it's never too early to start planning for the holiday season.
Whether you like twinkling lights, hot chocolate or Christmas music, you'll have plenty to choose from this year.
Here's a list of some of the holiday events available this season. If you know of an event we should add to our list, send us an email.
Anheuser-Busch Brewery
:
Brewery Lights
The annual favorite brings back many of the familiar favorites this season, and some new features. You can still stay warm around with reservable private fire pits and igloos, but this year, there are more amenities. Guests who reserve these VIP areas also have access to upgraded food options and a heated glass tent with private restrooms.
If you don't mind a little cold, you can still reserve your spot for $10 and see the new light show with double to lights from last year. The reservation includes free parking, a 16-ounce beer for those 21 and older, a 10-minute light show.
A nightly parade featuring the Budweiser Clydesdales will happen each night at 7:30.
Children under the age of 5 can get in for free. If you want the free brewery lights experience for the whole family, there are a number of free, drive-thru nights: Nov. 21, 22, 23, 28, 30 and Dec. 6, 12, 13, 14, 19, 26 and 27.
On those nights, you can enter and exit from Pestalozzi Street at the main gate from 5 to 10 p.m.
Dates: Select nights Nov. 17 to Dec. 30
Cost: Free for drive-thru, $10 for adult access or packages for multiple people up to $1,100
Location: 1200 Lynch Street, St. Louis, MO
Rock Springs Park
:
Christmas Wonderland
The "Grandpa Gang" has done it again, bringing thousands of lights back to Alton's Rock Springs Park.
Opening pen for the season on Nov. 25, guests can turn off their car's headlights and drive through the park to look at the lights featuring characters from Peanuts, Frozen and others.
The light display will be open nightly through Dec. 27 at Alton's Rock Springs Park at 2100 College Avenue. Hours range from 6-9 p.m. Monday-Friday and 5-9 p.m. Saturday and Sunday.
The annual walk-through event will be held on Monday, Nov. 28. For $1, guests can walk through the park during the evening.
Admission to Christmas Wonderland is a suggested donation of $7 for cars and small vans or $1 per person for vehicles holding more than 10 people.
For more information, call 1-800-258-6645 or click here.
Dates: Nov. 25 to Dec.27
Cost: $1 for walking guests, suggested $7 donation per car or $1 per person
Location: 2100 College Ave, Alton, IL
City Museum
:
Weirdly Wonderful Holidays
Everyone loves City Museum in St. Louis, but what's even better than City Museum on a normal day? City Museum during the holidays! The St. Louis attraction is celebrating a full month of holiday fun with a number of different events throughout the rest of the year.
Check out the Misfit Holiday Bar, Steampunk Santa Show, Santa's Merry Magic Show, wish yourself a 'Merry Kitschmas' at Beatnik Bob's or take the family to the Family Friendly New Year's Eve Party at City Museum.
City Museum is also open extended hours through Thanksgiving week for more fun playtime.
Dates: Nov. 25 to Dec. 30
Cost: Single-day tickets: $20. Children 3 and younger play free.
Location: 750 N. 16th St, St. Louis, Mo
The Darkness
:
Krampus Haunted Christmas
If you are looking for a scare this holiday season, Krampus is visiting The Darkness for one night only in December.
The event will be held from 6:30 to 9:30 p.m. on Dec. 17 and is limited to the first 1,250 tickets sold.
At the event, guests can take pictures with Santa Claws and walk through a "twisted Santa experience" at The Darkness.
For more information and to purchase tickets, click here.
Dates: 6:30 to 9:30 p.m. on Dec. 17
Cost: $30 per person with additional packages and add-ons
Location: 1525 South 8th Street, St. Louis, MO 63104
Eckert's
:
Holiday festivities
Eckert's Farm is offering several different ways to celebrate the holidays, from cutting your own Christmas trees to sipping some holiday drinks.
It all starts on Nov. 19, when Eckert's will have the Christmas tree lots open and the first Breakfast with Santa event.
The cut-your-own tree experience includes a wagon ride through the evergreen forest and past Santa's workshop with a stop along the way to cut your own tree.
If you want to get some time with Santa, he and Mrs. Claus will be at Eckert's every Saturday and Sunday from Nov. 19 through Dec. 18.
The meal includes scrambled eggs, bacon, fried potatoes and more. Each child will also get a chance to tell Santa their holiday wish, take a photo with Santa and decorate a sugar cookie.
Breakfast will be served from 8 a.m. until noon. Reservations are $25 per person and tickets can be purchased on Eckert's website.
If dessert is more your speed, families can head to Eckert's Country Store on Saturdays and Sundays from Nov. 26 through Dec. 18 for gingerbread house workshops.
Groups will get a table with all the supplies they need, and Eckert's bakery staff show you the ropes of building a show-stopping gingerbread masterpiece.
The workshop is $20 per gingerbread house. Reservations are not required for this event. Guests can stop by the store between 9 a.m. and 6 p.m.
On Thursdays starting on Dec. 1, Eckert's is hosting a gingerbread house-making and cocktail-sipping date night. From 6 to 8:30 p.m., people over 21 can try their hand at making a gingerbread house while trying a flight of hard ciders. The event is $33 per person and reservations are required.
And if you want a keepsake to get you in the Christmas spirit, guests can get a photo with Santa at Eckert's Farm Wednesday-Friday from Dec. 1-23.
Visit the Garden Center to tell Santa your Christmas wish and take home a keepsake photo to mark the occasion.
A photo with Santa is $22 per family and additional photos can be purchased for $10. Visit Eckert's website to make a reservation.
Dates: Nov. 19 to Dec. 22
Cost: Varies per experience
Location: 951 S Green Mt Rd, Belleville, IL
The Fabulous Fox
:
Tons of holiday shows
The Fabulous Fox is hosting a number of holiday shows this season.
On Dec. 9, Amy Grant and Michael W. Smith are bringing their Christmas tour to the Fox Theatre with very special guest Michael Tait of the Newsboys. The nationwide tour will be a showcase of both performers' expansive holiday albums.
The musical is based on the famous reindeer from the longest-running holiday TV special – "Rudolph the Red-Nosed Reindeer" – which debuted in 1964.
There will be two performances on Dec. 11 at 1 and 5 p.m.
Elf The Musical, the stage show telling the story of Buddy the Elf, is coming to the Fox Theatre as well.
Location: 527 N Grand Blvd, St. Louis, MO 63103
Grant's Farm
:
Lights, Breakfast with Santa and more
Grant's Farm is offering a holiday lights experience you can experience in four different ways.
Reservations are required for each event.
The drive-thru experience will be held on select nights from Nov. 25 through Dec. 30. The experience lasts about 30 minutes. Click here for tickets.
You can also walk through the same display. A tram ride will take you to Bauernhof Courtyard to peruse the displays at your own pace. Click here for tickets.
If you want a more private celebration with a view of the holiday lights, Grant's Farm is also offering VIP fire pits for groups of up to 12 people. Firewood, beer, water and s'mores kits are included. Click here for tickets.
Grant's Farm is also hosting breakfast with Santa and Mrs. Claus. The event includes a buffet breakfast, family photo, meet and greet with Santa and Mrs. Claus and guest animal appearances at the historic Carriage House. Click here for tickets.
Dates: Nov. 25 to Dec.30
Cost: Varies per experience. $10 to $399
Location: 7385 Grant Rd, St. Louis, MO 63123
Missouri History Museum
:
Holiday Programming
The Missouri History Museum is offering several different events to enjoy the holiday season.
The Museum, located in Forest Park is inviting you to take part in holiday fun at the History Museum.
Thursday nights at the History Museum brings holiday programming for the rest of the holiday season. Options are:
Other activities include the 2022 Winter Getaway and Annual Noon Year's Eve Celebration.
Click here to learn more about The Missouri History Museum and it's holiday events.
Dates: Various in December. Click here for the events calendar.
Cost: Free
Location: 5700 Lindell Blvd, St. Louis, Mo
Missouri Botanical Garden
:
Garden Glow
The Garden Glow is back again this year with s'mores, drinks and some photo opportunities.
The event runs from Nov. 19 through Jan. 7. There will be a member preview night on Nov. 18.
Tickets for Garden members 13 and up start at $15 and children start at $8. General admission tickets for non-members ages 13 and up start at $20. Ticket prices for kids 3-12 years old start at $3.
For more pricing and ticket information, click here.
Dates: Nov. 19 to Jan. 7
Cost: $15 to $22 for adults, $3 to $10 for children
Location: 4344 Shaw Boulevard, St. Louis, MO 63110
Saint Louis Zoo
:
Wild Lights
Wild Lights at the Saint Louis Zoo will kick off on Nov. 25.
The Polar Pointe Pathway, Gingerbread Valley, Holly Jolly Hangout, Candy Crossing and Meet Me in St. Louie zone, are all back this year.
The Wild Lights events will be held on the following nights from 5-8:30 p.m.
Friday-Sunday, Nov. 25-27
Wednesday-Sunday, Nov. 30-Dec. 4
Wednesday-Sunday, Dec. 7-11
Monday, Dec. 12, Sensory-Friendly Night for individuals with sensory sensitivities
Nightly, Dec. 14-23
Monday-Friday, Dec. 26-30
Dates: Nov. 25 to Dec.30
Cost: $10 to $16
Location: 1 Government Drive, St. Louis, MO 63110
St. Louis Union Station
:
Polar Express and underwater Santa
The Polar Express is back again this year.
Train departures will be held from Nov. 18 to Dec. 30. Trains will depart Union Station at 4:30 p.m., 6 p.m., 7:15 p.m. and 8:30 p.m.
According to the Polar Express website, guests will "take a real train ride from St. Louis Union Station to the 'North Pole' and discover the magical journey of one boy's search for the real meaning of Christmas."
If you'd like to purchase tickets for the Polar Express, click here.
Elsewhere in Union Station, Scuba Claus will take a dip every weekend starting at 1:15 on Friday Nov. 25. He will return at the same time each Saturday and Sunday through Dec. 24. Kids will be able to speak to Santa through his elf.
The Scuba Claus dive is included in your admission to the St. Louis Aquarium.
For more holiday events at Union Station, click here.
Dates: Nov. 18 to Dec. 30
Cost: $35 to $95
Location: 201 S. 18th Street, St. Louis, MO 63103
Kiener Plaza
:
Winterfest
Winterfest kicks off at Kiener Plaza in downtown St. Louis on Nov. 19.
To start the event, there will be an opening day 5K run/walk and a one-mile kids' fun run through the grounds of the Gateway Arch. All proceeds will benefit the Gateway Arch Park Foundation.
Winterfest will include ice skating, holiday lights, igloos, winter markets, music and more. There will also be a New Year's Eve celebration with a firework show.
The event runs through Jan. 1.
Dates: Nov. 19 to Jan. 1
Cost: $12 to $1,500
Location: One S. Memorial Drive, Suite 700 St. Louis, MO 63102
Tilles Park
:
Winter Wonderland
Guests can walk, drive or ride through several displays of holiday characters and winter scenes made up of more than 1 million lights. Dogs on a leash, cameras, strollers and wagons are welcome at the event on the nights when vehicles and carriages aren't allowed.
Winter Wonderland will run from Nov. 18 through Dec. 30. It's an all-weather event, rain or shine, so guests should always remember to dress for weather conditions.
Santa will also be visiting the park for photo opportunities.
Guests must pre-register for the event. Tickets are $8 and availability is limited due to capacity restrictions, according to the MetroTix website.
Click here for more information and to purchase tickets.
Dates: Nov. 18 to Dec. 30
Cost: $8 to $160 depending on experience
Location: 9551 Litzsinger Rd, St. Louis, MO 63124
World Wide Technology Raceway
:
Wonderlights Christmas
Enjoy a spectacular light display from the warmth and comfort of your vehicle! Drive around World Wide Technology Raceway and watch a synchronized light and music show.
The experience is open rain, shine or snow.
Dates: Nov. 11 to Jan. 1
Cost: $30 to $100 depending on vehicle size
Location: 1905 Collinsville Road, Madison, IL 62060