WELLSTON, Mo. — A 31-year-old man has been charged after police said he stole a rifle outside a St. Louis County grocery store Friday, leading to a shootout in which he and two bystanders were injured.
Bobby Lee Booker Jr. is charged with armed criminal action, first-degree robbery and two counts each of unlawful use of a weapon and unlawful possession of a firearm. His cash-only bond is set at $500,000. Police said he remains under surveillance at an area hospital while he is treated for gunshot wounds.
Officers responded at about 2:45 p.m. Friday to a call for "shots fired" at Wellston Food Market at 6250 Page Ave. They found Booker lying in front of the store. He had been shot several times.
Major Ron Martin with the North County Police Cooperative spoke to 5 On Your Side after the shooting. He said that moments before the shooting, a customer with a rifle had entered the grocery store.
Martin said the patron was "open carrying" the rifle in a gun sleeve underneath an article of clothing and did not threaten anyone while inside the store.
As the customer left the store and stepped outside, Booker held a pistol to the back of his head and robbed him of his rifle and jacket, according to a probable cause statement.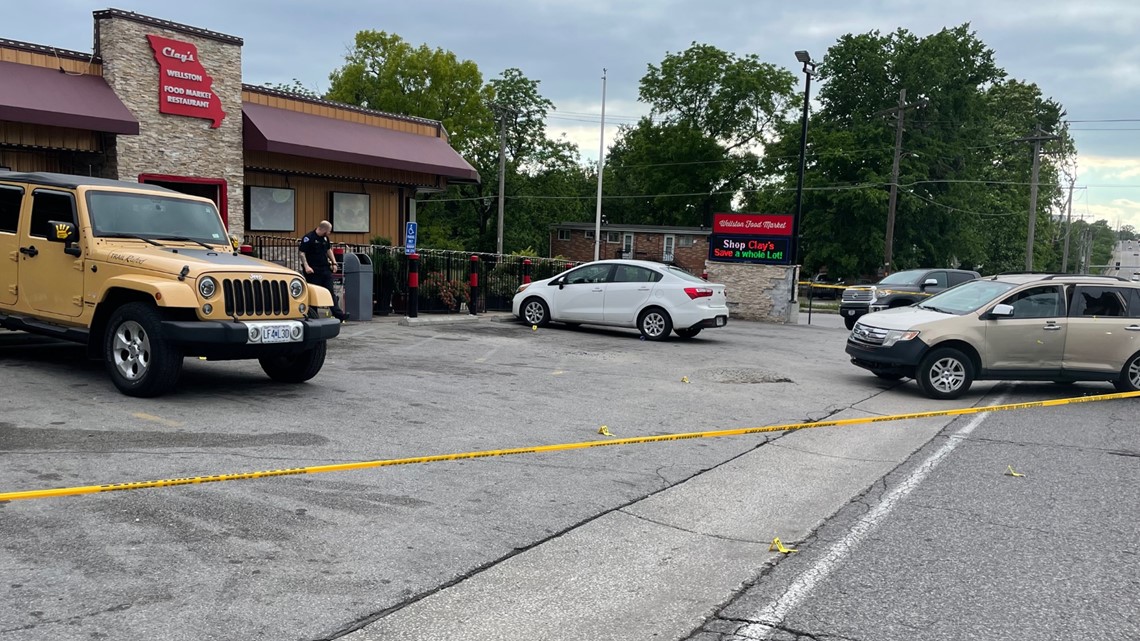 After giving up the rifle, the victim went to his vehicle and grabbed another gun as Booker was walking away, Martin said. He fired at the robber, and a shootout between the two began.
According to a probable cause statement, Booker is seen wielding both the rifle and the pistol.
Booker was shot several times. Two innocent bystanders, both women, had just pulled up to the market and were also shot, Martin said. Their injuries were not life-threatening.
The man who was robbed of his rifle fled the scene. Moments later, police believe a third man came and shot the alleged robber again, then left.
Booker was rushed to an area hospital in critical condition, where he remains as of Wednesday.
It was unclear if the three men know each other.
In the aftermath of the shooting, police roped off the market with crime tape and multiple evidence markers were scattered in the parking lot. A Ford SUV was seen in front of the market with the rear driver window busted.
Police said they have recovered the vehicle belonging to the alleged robber.
If you have any information about this incident, the North County Police Cooperative asks you to contact their Bureau of Criminal Investigations at 314-499-6090 or 314-428-6868.
Wellston Food Market was the scene of a shooting that caused the death of a police officer in 2019. North County Police Cooperative Officer Michael Langsdorf was killed in the line of duty while responding to the market regarding a bad check.
Resources for crime victims:
If you have been a victim of a crime or know someone who has been, 5 On Your Side has compiled a list of resources.
Better Family Life is a nonprofit community development organization working to "stabilize inner-city neighborhoods." One aspect of its mission is a gun violence de-escalation program.
Life Outside of Violence "helps those harmed by stabbing, gunshot or assault receive the treatment, support and resources they need to find alternatives to end the cycle of violence."
The Urban League of Metropolitan St. Louis has an anti-crime program called "Safety Net for Youth Initiative," which is a joint partnership with Saint Louis Public Schools to provide services to at-risk youth.
Cure Violence is an international organization that has recently launched in a handful of St. Louis neighborhoods. Violence interrupters are trained to deescalate violent situations within their own communities. To learn more, visit https://cvg.org/