ST. LOUIS — Fatherhood has broken Angelo D'Andrea's heart more than once: First, when his daughter was born. D'Andrea wanted to be involved in the new baby's life, but the mother's parents wanted him to stay away.
For 9 years, D'Andrea sent presents and money to support her. He saw his daughter only a few times. He waited in hope that he could reconnect with his daughter, who carried his name, when she grew up.
He lost that hope in 1993. That November, hunters found the body of his daughter, 9-year-old Angie Housman, in the Busch Memorial Conservation area in St. Charles. According to investigators, she was kidnapped, sexually assaulted, and left in the cold, taped to a tree.
For 26 years, police couldn't give D'Andrea the closure he wanted, which was to see Housman's killer brought to justice. Then in June of 2019, prosecutors announced a big break. DNA tests from the crime scene matched to a known pedophile who lived nearby at the time that Housman disappeared.
D'Andrea's pain is still too enormous. He won't be in court to see the man accused of torturing his daughter. But he finally broke his silence to share his grief with 5 On Your Side.
Fractured Family
The first time Debbie Skaggs saw her niece Angie Housman was at her funeral.
"It was tense," she recalled. "I went up to see her and I wanted to touch her, but I just couldn't do it."
D'Andrea and Skaggs attended Housman's burial. They didn't return for 26 years, until they joined the I-Team's PJ Randhawa to see the grave.
"She had another family that loved her and wanted to be with her," said Skaggs.
Skaggs is D'Andrea's sister. She cares for him because he lives with a learning disability. She feels that it affects how D'Andrea deals with the emotions of losing his daughter.
"I said, 'Angelo, I don't know if you really want to know what happened to her.' He said, 'All I know is bad.' So I left it alone," she said. "I don't think he will be able to handle it if he knows, and I don't want to tell him that story. I don't want to tell him that because it will break his heart bad."
After such a long time, D'Andrea remembered exactly where Housman rests in Laurel Hill Memorial Gardens. He declined to talk at the grave at all, mourning in silence the way he had for more than two decades.
Skaggs describes her brother as kind and generous, but what happened to his daughter reveals another side of him. "He just don't like talking to people about it cause he gets angry about what happened to Angie," she said. "There's a lot of things he doesn't understand."
Later, D'Andrea said the anger is the reason he won't be going to court when the suspect, Earl Cox, goes to trial.
"It's not a good idea to go to court. 'Cause up here, I'm not thinking," he said. "I'm not going to jail for it. He ain't worth it."
"He took away something that Angelo was waiting for, for a long time," Skaggs added. "What Cox did, he took her life and took that away from my brother. And that's not right. And I want him to die."
A Picture's Worth
Skaggs told 5 On Your Side that she wanted a way to bring Housman's memory to life for D'Andrea. Forensic artist Diana Trepkov was happy to help.
"It's really sad what happened to her," said Trepkov. "It breaks my heart, so I wanted to do this as a gift for the family."
Trepkov specializes in age-progression sketches for missing person cases, particularly of children. Skaggs wanted Housman's father to be able to see what she would look like today if she got to grow up. The artist got to work, envisioning Angie at 35.
"If you look at pictures of yourself when you were a young, young girl, you'll see your eyes have followed you your whole way through life. I always make sure I keep their eyes true to who they are. She has that great sparkle in her eyes, you can tell, full of life. I wanted to make sure I kept that part alive," said Trepkov.
The artist also focused on the 9-year-old's other features: her smile and dimples, her cheekbones and her long, wavy hair.
D'Andrea and Skaggs saw something more personal in those features.
"She does look like me," D'Andrea said, pointing to Housman's face.
"She does look like our side, our side of the family," said Skaggs. "She's got our nose. My mother's, my mother's nose."
"Beautiful. I love her with all of my heart," D'Andrea said. "If she were alive, she got a job, some kids, you know, do something with her life. I still love her with all my heart."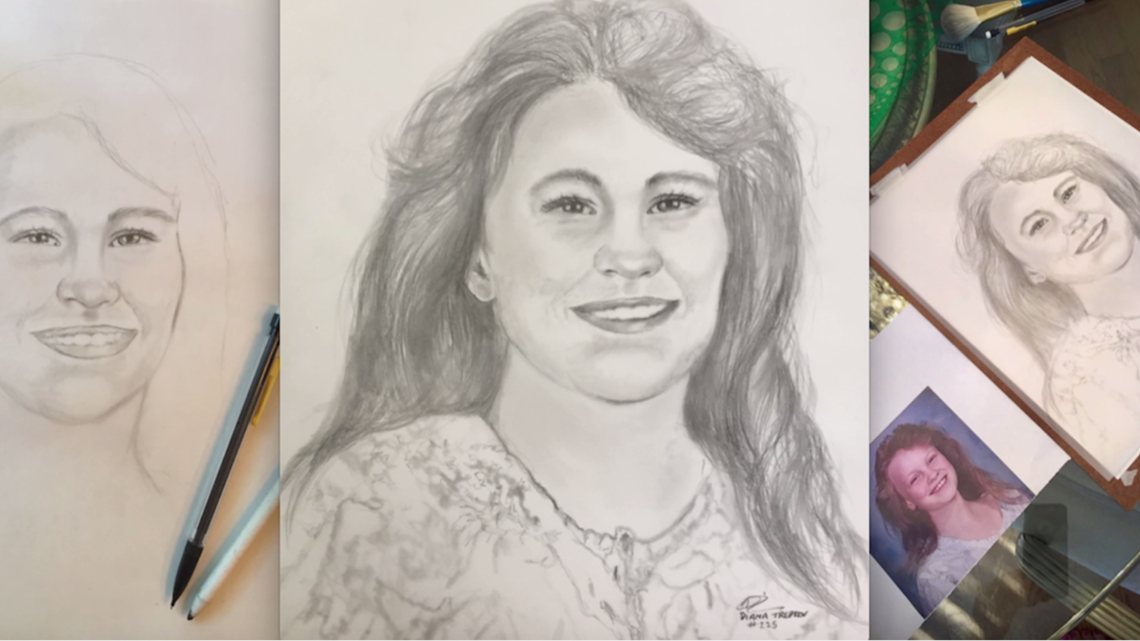 'Please make that phone call'
As the criminal case continues, there are still unanswered questions about who was involved in the last days of Housman's life.
On Oct. 25, a grand jury indicted Earl Cox on charges of murder in the 1st degree and sexual abuse. But the grand jury declined to issue an indictment on the kidnapping charge.
Nine days passed between Housman's disappearance and the day her body was found. Prosecutors have yet to offer a theory about where Cox, or anyone else, kept the young girl. Investigators only say that over that time, Housman was starved and tortured.
Skaggs thinks the information that the prosecutors need is in someone's memory.
"They're too scared to speak up, but they shouldn't be scared to speak up. I mean, if they know something, tell the story. Tell the truth," said Skaggs. "That's what I want."
The St. Charles County Prosecutor's Office did not issue a statement at the time of the indictment. Ever since the charges were first filed, investigators have been asking for tips about where Housman was during her kidnapping as the last big mystery in her case.
"She deserves that. She didn't get to live. I want someone to speak up and get, you know, tell the story, tell the truth. And that's why I'm here," said Skaggs. "I just want that person to make that phone call, you know? Please make their phone call, you know? Let me be direct. You know who you are. You know what you did. You know she was at your place for 9 days. Do you know who the other person is? You need to give up and tell the truth and call St. Ann's police department."
Previous stories