O'FALLON, Mo. — Investigators are trying to figure out what led to the deaths of a cat and a dog in O'Fallon, Missouri.
The animals' owners went on vacation and left their pets with a trusted sitter, only to find out, they were found dead days later.
Tommie Love said they are big advocates of animals and even spend their time and money in helping host adoption events.
Their rescue dog, Gloria, is a doodle and was ready to turn 5.
"Gloria is adorable and loves people," Love said.
Their rescue cat, Poodles, joined their family just about six weeks ago, after Love found her stranded.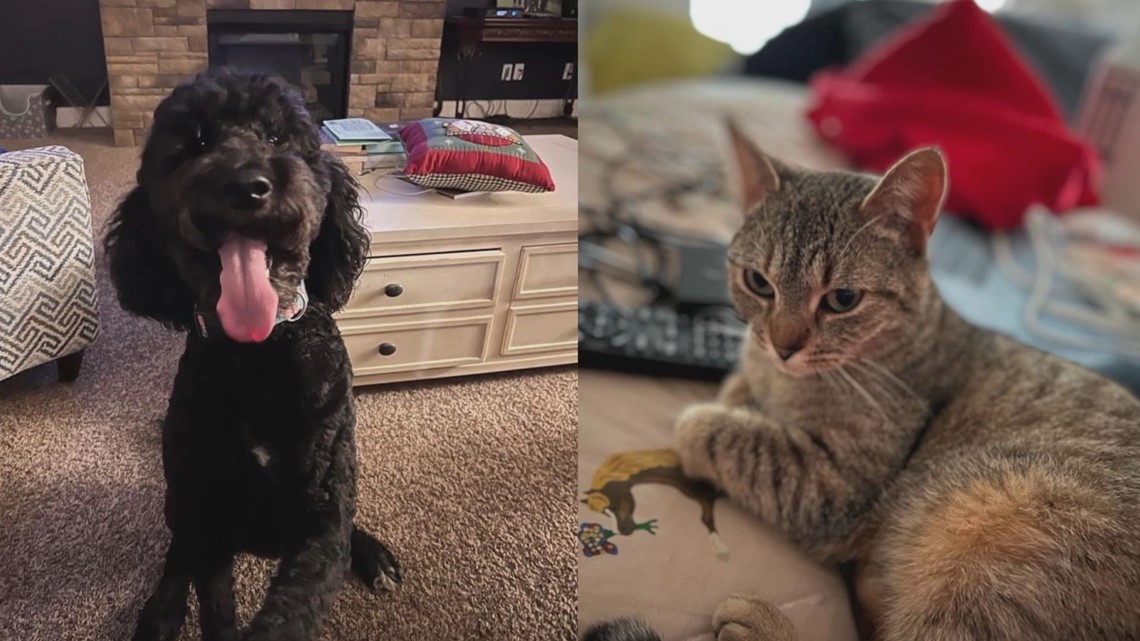 Love kept them safe and wanted to make sure they stayed safe when they took a trip to Mexico.
A trusted family member, who was staying with them, said they would watch the pets.
"We usually have another sitter. We had this family member who we loved and trusted and had no idea or concern," Love said. "We came here for a vacation. It worked out perfect timing because I had two traumatic deaths in my family and had five days to relax and rest."
But there was no relaxation.
Love says their nightmare began when they couldn't see their pets on their cameras.
She saw the sitter leave for work and put one of their dogs in the crate, but Gloria was nowhere to be seen.
"We demanded to see Gloria on Facetime and she refused," Love explained.
That's when Love's son went over to the 800 block of Bluff Brook Drive to check out what was going on.
"He found blood in the basement where the cat was supposed to be and the cat was gone. Eventually, she admitted the cat died and that Gloria had run away the day before," she added.
Besides calling the police, Love took her fight to Facebook and shared a missing dog poster.
She was still in Mexico trying to find answers.
"I'm in a foreign country, I don't have good reception, I'm doing my best to get the word out!" she said.
The post caught the eyes of Mandy Zatorski, who's with an animal rescue advocacy group called Missouri K9 Friends.
The group also conducts animal cruelty cases.
"My jaw dropped when I first read it. You think of rescue animals and finding their happy ending and for this to happen it makes it so much worse," Zatorski shared.
With hundreds of helpers, Love would soon learn the truth from her son.
"My son as he was leaving the house yesterday, he was walking to his car and he smelled a foul odor. He pinned it coming from the car, the sitter's car," Love said as her voice started to quiver.
She said he spotted a collar in the car and she confirmed it was Gloria's.
They called the police to get help, but they said they couldn't break in.
With permission from his mom, her son grabbed a hammer and got in the car.
"He opened the car door and the first thing I saw was the cat's body and then he pulled some other stuff and moved the camera away quickly and said, 'I can't let you see this.' He found Gloria under a bunch of clothes in a laundry basket. The police think they've been in there dead since Tuesday and locked in a hot car for five days," she said.
A suspect was identified and arrested.
Investigators are expecting to file charges of animal abuse and possession of a controlled substance.
O'Fallon Police Department say the two deceased animals have been sent to the University of Missouri for necropsy examinations.
Police explain they are waiting for those results to come back before determining the charges filed.
Zatorski is pleased with the police response and said animal cruelty cases can be hard to prove in the state of Missouri.
"The laws in Missouri are weak and the animal cruelty laws are disastrous. In Missouri for animal abuse, it's pretty much a misdemeanor unless they can prove torture and mutilation," she said.
Love carries the pain and the memories, knowing she'd do anything for her pets.
"They are my babies. Never in a million years would I have left them in a moment where I felt they were unsafe," Love said.
She also wants to tell others to think twice.
"Be safe. Make sure you have a home security camera that you can watch. We still were not safe, even if you do everything right something horrible can happen, but take all the precautions that you can," Love noted.