FREEBURG, Ill. — Just a few months ago, the Freeburg High School baseball team wasn't sure if they were even going to be allowed to play a full season. Now, they're just two wins away from a state title.
Freeburg will head up to Springfield this weekend for the Class 2A state Final Four. Their first opponent is Normal on Friday.
Due to the COVID-19 pandemic, Freeburg wasn't able to make a run at a state title in 2020. They're making up for it this year.
"We had good talent last year and we lost it, with these seniors now as juniors," head coach Drew Gericke said. "To be able to do a state series with these seniors, it's a great group of seniors, and I'm not even talking about baseball-wise. They're just good kids. And to have that opportunity for these kids to play for something... They're all about it right now and I'm glad they get that chance."
Leading the way for Freeburg is its juggernaut of an offense, spearheaded by the area's leading home run and RBI man, first baseman/pitcher Colin Brueggemann. The senior currently has 12 homers and 57 RBI on the season. As a team, they are averaging close to nine runs a game over their 37-game season.
"The kids feed off each other, it's exciting," Gericke said. It's like they just get locked in even more and not let their teammates down."
"I just feel really good right now," Brueggemann said. I'm trusting myself right now."
Freeburg's offensive prowess was on full display in their super-sectional win over Harrisburg. After falling behind 7-0 through an inning and a half, they stormed back for a 15-8 win.
And you can maybe credit some of the team's good mojo this season to a good luck charm in the dugout in the form of a Stitch (from the movie Lilo and Stitch) stuffed animal, which the team picked up on a group impulse buy at Target.
"We wanted a rally pet for the dugout and we found this Stitch and when you grab it, it shakes so we just got it," senior outfielder Cade Smith said.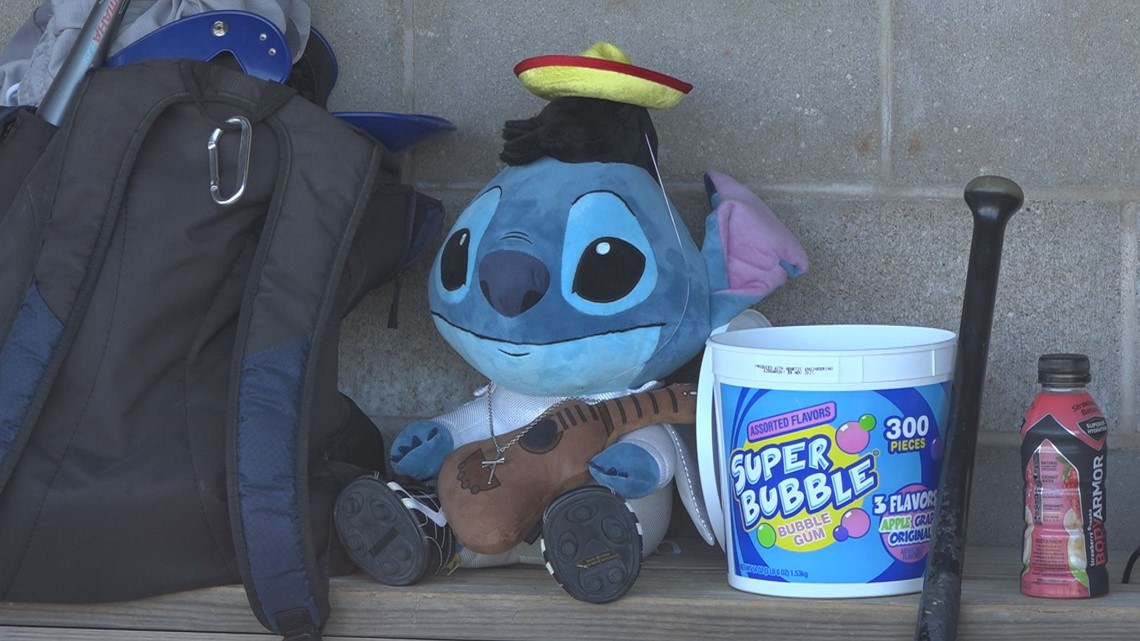 But it's not just Stitch supporting them. The whole town is rallying around the team.
"Right now the town support we've received, throughout the year much less right now... Right now it's crazy. The town is all over this team. It's great to see," Gericke said. "The last one was '89, we've been there three other times and couldn't get it done. But the makeup of this team, and scouting the other teams, this team has a true shot."
And the players aren't short on confidence either.
"Ever since we were playing in 9U. We've dreamed about this," Brueggemann said. "Coming to high school games when we were little, and we've always imagined this."
"That's what we've been set on this whole year," Smith said about the thought of winning a state title. To do it would be awesome."
Freeburg will try to win its first state baseball title since 1989 beginning on Friday at 1 p.m. against Normal High School at Illinois State University in Springfield. With a win, they'll play either Elmhurst (Timothy Christian) or Springfield (Sacred Heart Griffin) on Saturday for the championship.
More High School Coverage