ST. LOUIS — Say goodbye to sandals and summer heat. Thursday, Sept. 22 marks the Autumn Equinox and the official start of the fall season!
Pumpkin-spiced drinks have made their comeback at coffee shops, and it's finally starting to cool off in the St. Louis area. That means we're on the cusp of seeing leaves change from classic emerald green to fall's fiery hues.
While areas of the country furthest north are beginning to see leaves change color, it could still be a few weeks before Mother Nature's flames spread to the lower Midwest.
The interactive graphic below from SmokyMountains.com allows you to see the timeline of how leaves change around the country, from minimal-to-no change in early September to dead and fallen in late November.
When's the best time to see fall foliage in St. Louis?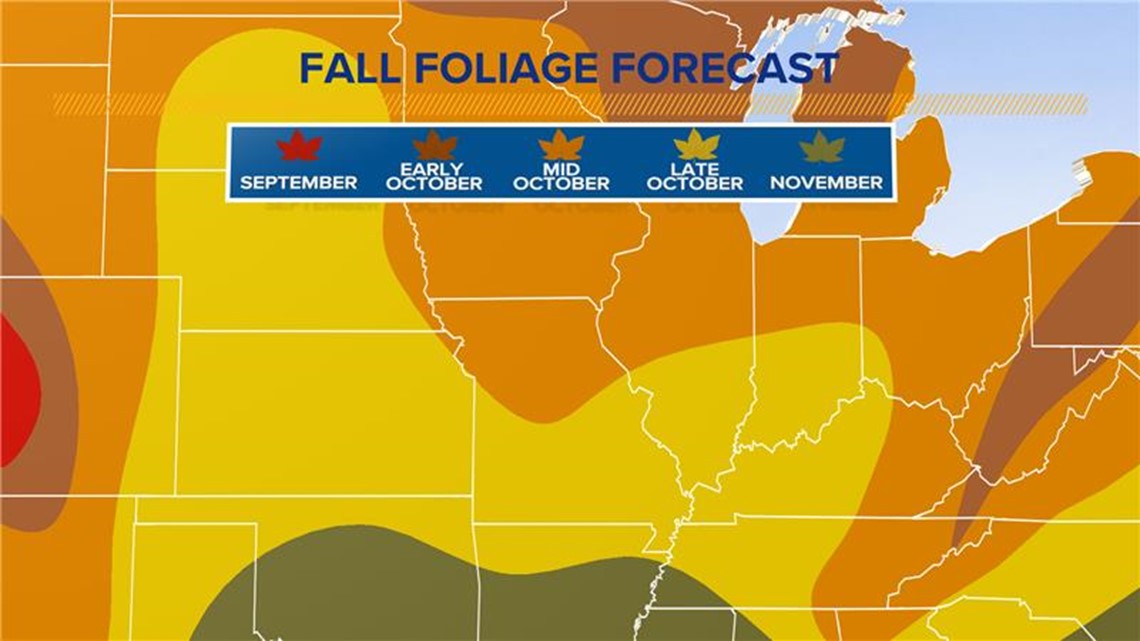 Since the state is home to a variety of foliage whose leaves turn at different times, Missourians are able to enjoy a longer autumn leaves season that can last four to six weeks, according to the Missouri Department of Conservation.
The state sees sassafras, sumac and Virginia creeper begin to change in mid-September. Black gum, bittersweet and dogwood begin to turn by late September. Peak fall color usually begins in mid-October, when maples, ashes, oaks and hickories turn, according to the department. By mid-November, colors typically begin to fade and leaves start to drop from the trees.
5 On Your Side Chief Meteorologist Scott Connell predicts the St. Louis area will see peak fall colors near the end of October, just in time for Halloween! But it might not be a great season for fall leaf spotting. Dry weather earlier this summer and flash flooding in July have put added stress on trees, which can lead to duller colors or leaves that fade to brown more quickly.
Daria McKelvey, the supervisor of the Missouri Botanical Garden Kemper Center for Home Gardening, backed up Chief Meteorologist Scott Connell's prediction.
"Our usual average time to hit peak fall color would be towards the end of October and into the first week or second week of November that's usually when we hit our sweet spot," McKelvey said.
Some colors popped early and McKelvey says that was due to heat stress, "with the hot temperatures we have had and the dryness that could cause them to prematurely drop their leaves or change a little bit."
Why do leaves change color?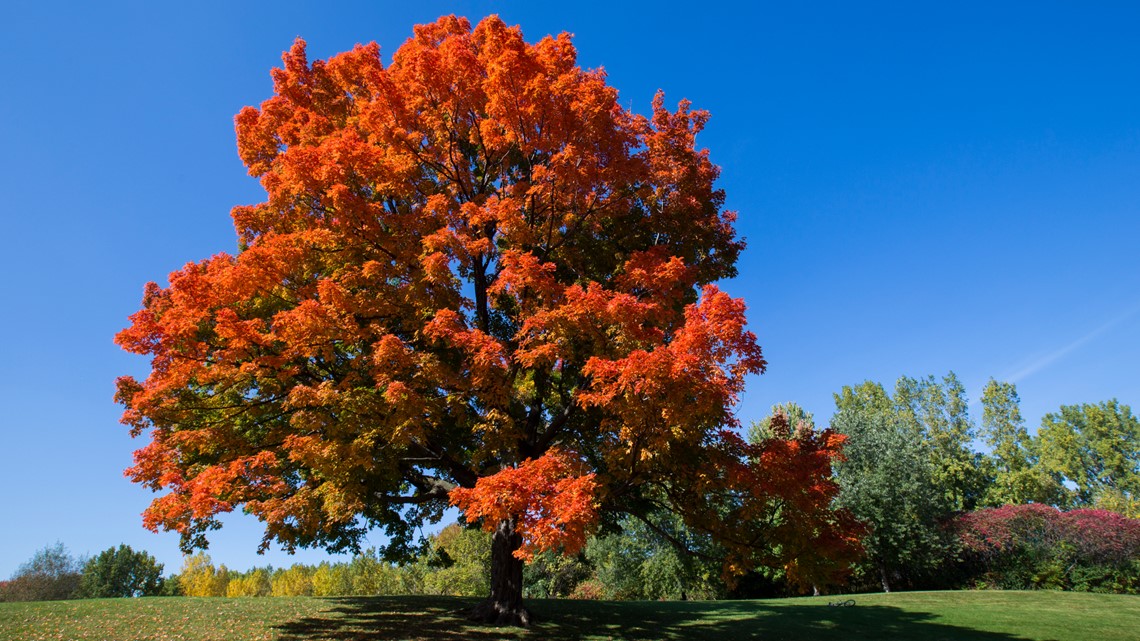 Let's take a trip back to science class. Photosynthesis is the process in which plants produce their own food. This happens within cells of the plant that contain a green-colored pigment called chlorophyll. This pigment helps plants absorb energy from sunlight and use it to transform carbon dioxide and water into carbohydrates, according to the National Oceanic and Atmospheric Administration.
Contrary to popular belief, leaves don't change color simply because of a drop in temperature. According to NOAA, it's the decrease in intensity and duration of sunlight paired with cooler temps that cause leaves to stop producing food. That's when the chlorophyll begins to break down, and the true colors of the leaf become visible.
The best conditions for vibrant leaves are warm, sunny fall days and cool – but not freezing – autumn nights. Coming in hues of red, orange and yellow, the color of leaves varies based on species and exposure to light. Leaves in direct sunlight may turn a darker red, while those in shady areas remain yellow.
Don't rake them up!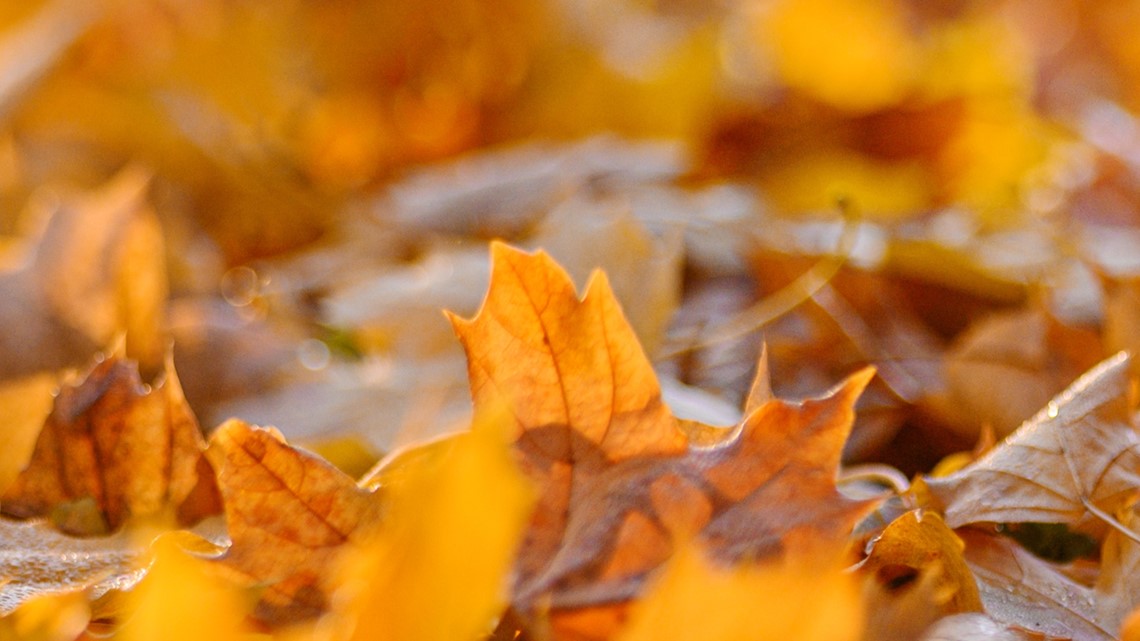 After a few weeks, colorful autumn leaves will begin to fall and turn brown and crispy. While your first instinct might be to start raking up the piles in your yard, these fallen leaves actually serve a purpose.
According to SmokyMountains.com, fallen leaves start to decompose and create a rich layer that absorbs dew and rainfall like a sponge. The layer of dead leaves then becomes a source of nutrients and water for plants and trees, protecting them through the winter months.
To watch 5 On Your Side broadcasts or reports 24/7, 5 On Your Side is always streaming on 5+. Download for free on Roku or Amazon Fire TV.