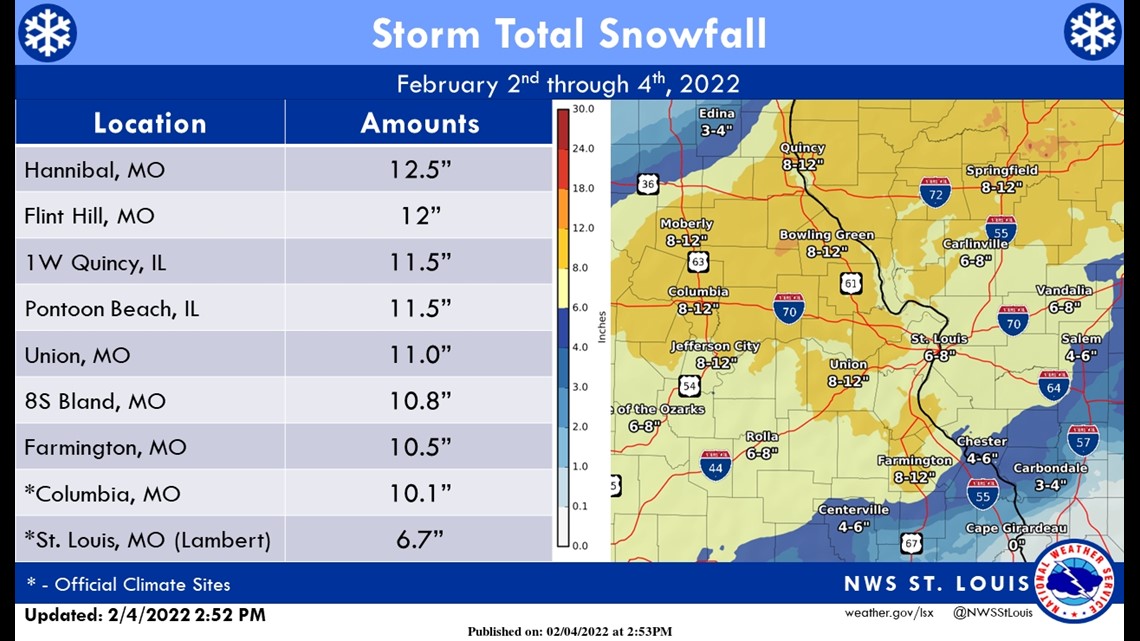 ST. LOUIS — The map above is from the STL National Weather Service showing the deeper snow totals in orange of 8 to 12 inches. 6-8" in downtown STL.
The system that brought snow, sleet and freezing rain to the St. Louis area on Wednesday and Thursday was one of the most significant winter storms we've seen in a while. In fact, this storm was the first 6 inch or more snowfall within the month of February since 2/24-2/25 1993!
The storm closed schools and businesses, and made for treacherous travel on roads and highways throughout the St. Louis area.
But just how much snow did you get where you live?
Here's a look at some preliminary snowfall totals from around the 5 On Your Side viewing area as of Friday:
Missouri Illinois
Louisiana: 11.5 inches Edwardsville, IL: 8.0 inches
Union: 11.0 inches Belleville, IL: 8.0 inches
Harvester: 11.0 inches Swansea, IL: 6.0 inches
Villa Ridge: 10.5 inches Red Rud, IL: 6.0 inches
Troy: 10.3 inches Sparta, IL: 6.5 inches
Wentzville/Flint Hill: 12.0 inches Wood River, IL: 7.8 inches
Lake St. Louis: 12.0 inches Elsah, IL: 7.5 inches
Eureka: 9.5 inches Red Rud, IL: 6.0 inches
Maryland Heights: 9.5 inches Granite City, IL: 7.8 inches
Chesterfield: 9.5 inches Pontoon Beach, IL: 11.5 inches
Hazelwood: 9 inches Hardin, IL: 6.7 inches
Webster Groves: 8.5 inches
St. Louis Lambert International Airport: 6.7 inches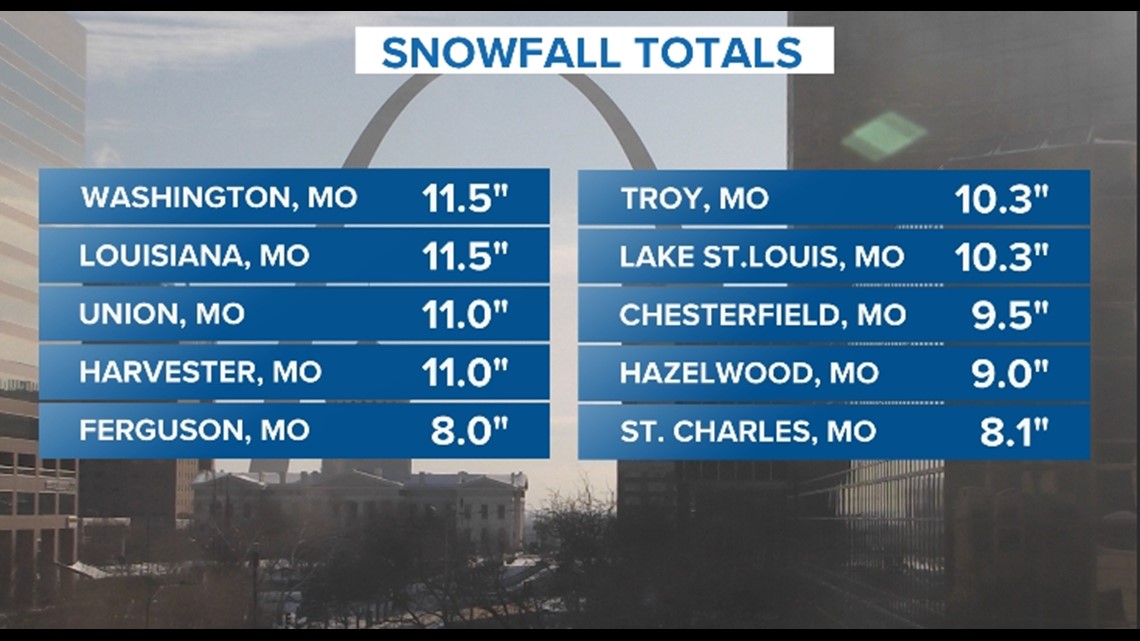 Illinois
Fairview Heights: 5 inches
Snow totals will be updated as we receive new information from around the area.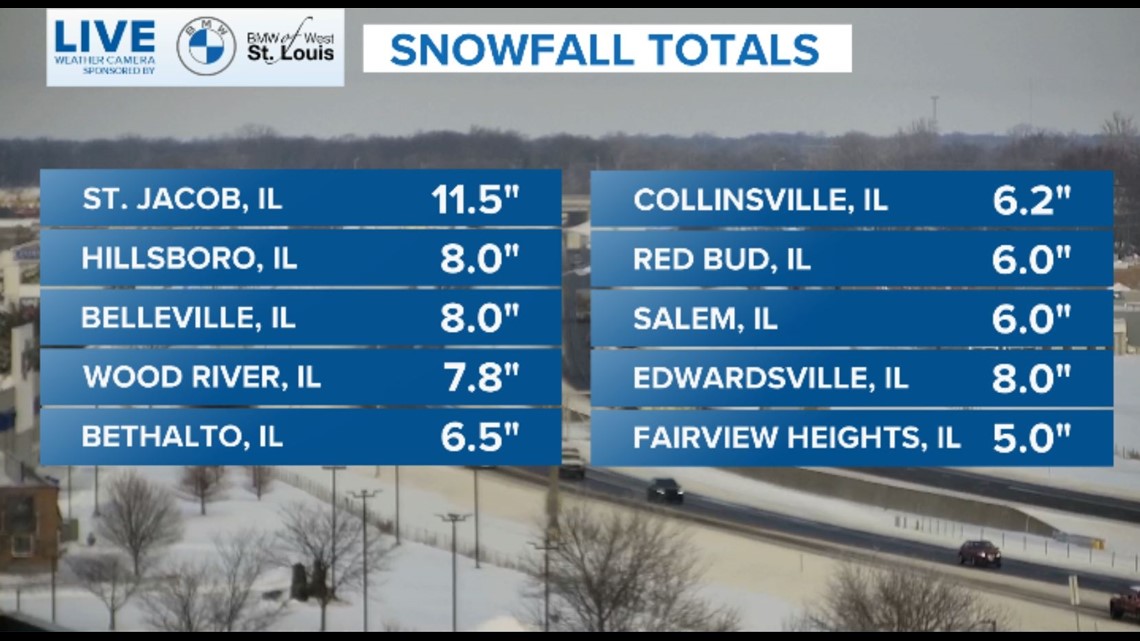 According to 5 On Your Side weather team, the St. Louis metro area generally received 6 to 12 inches of snow with some sports northwest of the City of St. Louis getting more than a foot.
Some folks had a bit of fun with the snow totals. Kaitlyn Cafazza in Wentzville helped measure the snow with baby Leo on his first snow day.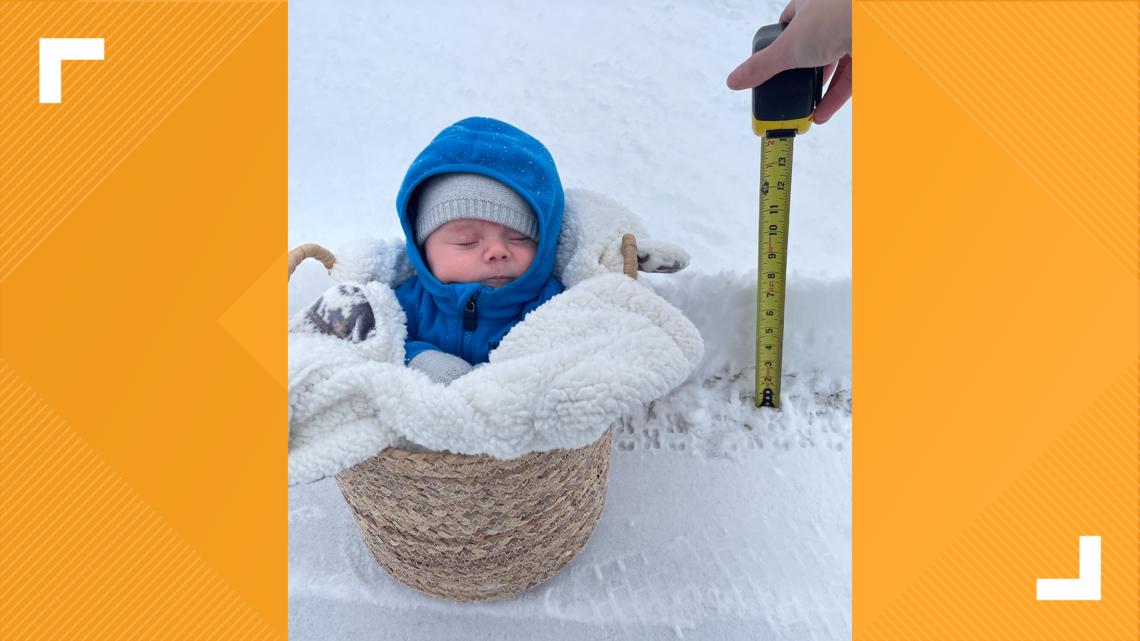 Another round of flurries could slightly add to totals overnight on Thursday into Friday.
Stay tuned to 5 On Your Side on-air and online for updated coverage of the winter storm.