ST. LOUIS — Friday evening continues dry and a clear & chilly night is ahead. Patch fog, especially along the rivers late tonight into early Saturday morning. Low temperatures tonight in the 20s outside of St. Louis to around 30 in the city.
Saturday will be sunny with highs in the low 50s.
Clouds build in Sunday with highs near 50. By the evening, showers will develop. Rain will be fairly limited. The tail end of this system could bring a few snow showers to counties in Illinois. Sunday evening's mix will be incredibly brief and will not accumulate.
Monday morning will be cold, with temperatures in the upper 20s. Do watch out for any icy spots on the roads and sidewalks. Most mornings next week will be cold like that. High temperatures will only make it into the 30s and 40s.
__________________________________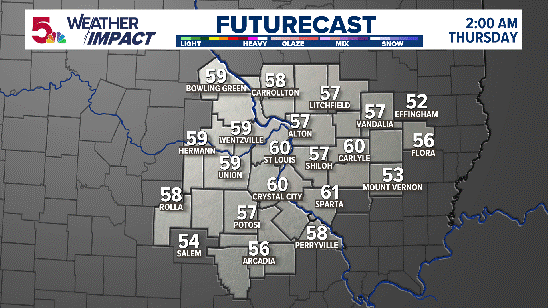 Download the free 5 On Your Side app to get the latest watches and warnings and track conditions live with our interactive radar. Use the links below to download now.
Friday: Patchy morning fog, mostly sunny afternoon. Highs in the low 50s.
Saturday: Sunny. Highs in the low 50s.
Sunday: Few evening showers, especially south and east, otherwise mostly cloudy. Light snow or flurries are possible late Sunday night as temperatures drop. Highs in the upper 40s.
Monday: Partly cloudy, cold and breezy. Highs in the mid 30s.
Tuesday: Mostly sunny. Highs in the upper 30s.
Wednesday: Partly cloudy. Highs in the mid 40s.
Thursday: Partly cloudy. Highs in the low 40s.