ST. LOUIS — With a few clouds around Monday, and humidity levels in check, temperatures still managed to climb above 80 in many locations.
Warmer, more summer like weather is returning to the region over the next few days. Humidity levels will increase and by Wednesday, a cold front will inspire thunderstorms to develop. Most likely, the storms will develop over northern Missouri and west-central Illinois and then move toward I-70 during the late afternoon or evening.
With the heat and humidity fueling the storms, some may be strong to severe with gusty winds, lightning and downpours.

The storm chances will likely continue into Friday with some breaks in the clouds. Highs remain in the mid 80s to around 90.
Remember to use sunscreen with a SPF of 30+ if you will be outdoors more than 30 minutes at a time.
________________________________________________________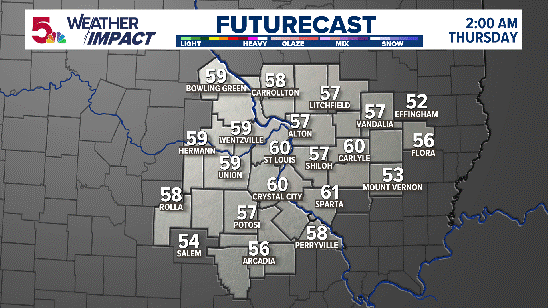 Download the free 5 On Your Side app to get the latest watches and warnings and track conditions live with our interactive radar. Use the links below to download now.
Tonight: Mostly clear to partly cloudy. Lows in the mid to upper 60s.
Tuesday: Mostly sunny. Highs in the upper 80s to around 90.
Wednesday: Sun and clouds. Warm, highs near 90. A late day thunderstorm is possible.
Thursday: Thunderstorm chances continue, otherwise partly sunny. Highs in the upper 80s.
Friday: Storm chance will continue, otherwise, partly cloudy. Highs in the low 90s.
Saturday: Partly cloudy. Highs in the low 90s.