ST. LOUIS — The leaves have fallen, and our clocks have been set back. We know that it's going to get cold and we're going to get some sort of wintry precipitation sooner than later.
But what exactly are we expecting this year? Is the map below the most accurate prediction we can give you this season? Do wooly worms and persimmon seeds mean anything for the season?
Winter carries the highest number of variables which carry the most weight to a specific degree. The Weather First team will do their best all season to keep you informed how each storm will impact our area.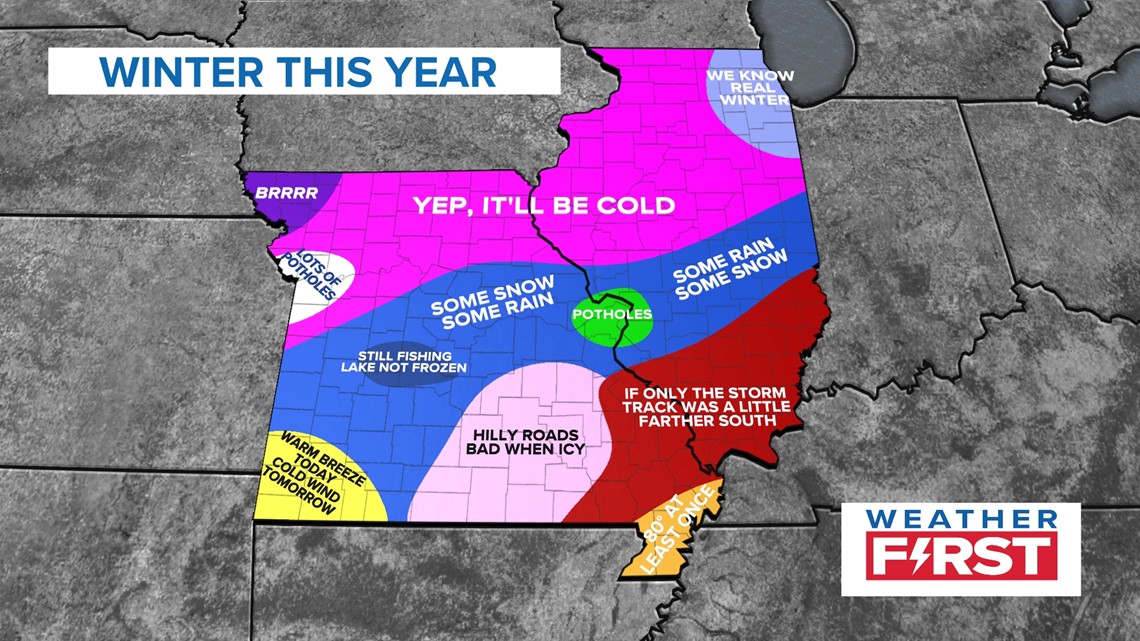 Chief Meteorologist Scott Connell took a look at the pattern set up this year and spoke to the National Weather Service about what this may mean for us in the coming months.
You've probably seen us share a map like the one below just about every year in some fashion. Whether or not it's snow, sleet, freezing rain, rain or a mix of all of these... just a few degrees are the difference between all of these.
That's the major difficulty with each winter forecast, and sometimes these variables don't become apparent until 12-24 hours before the storm arrives.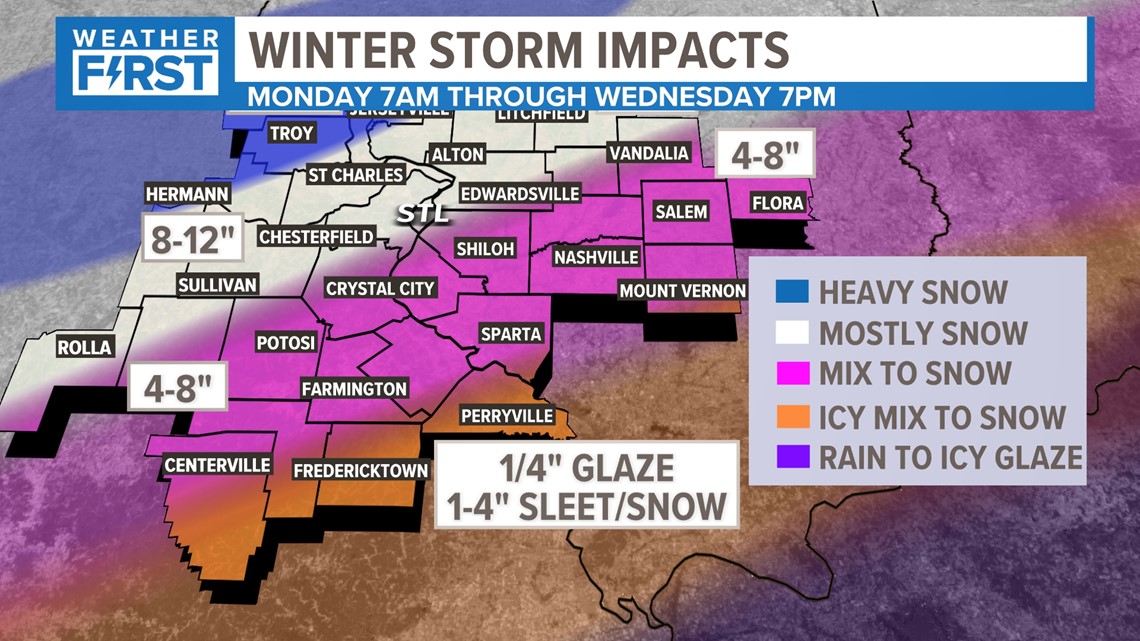 We consider December, January, and February winter in the meteorological sense. Our average temperature during this period is around 35 degrees, with January being the statistically coldest month in the St. Louis area.
We average 16.6 inches of snowfall for the season, which in this case, counts for the entire calendar year. Liquid precipitation (in case of melting) is just shy of 8 inches for the 3-month period as well.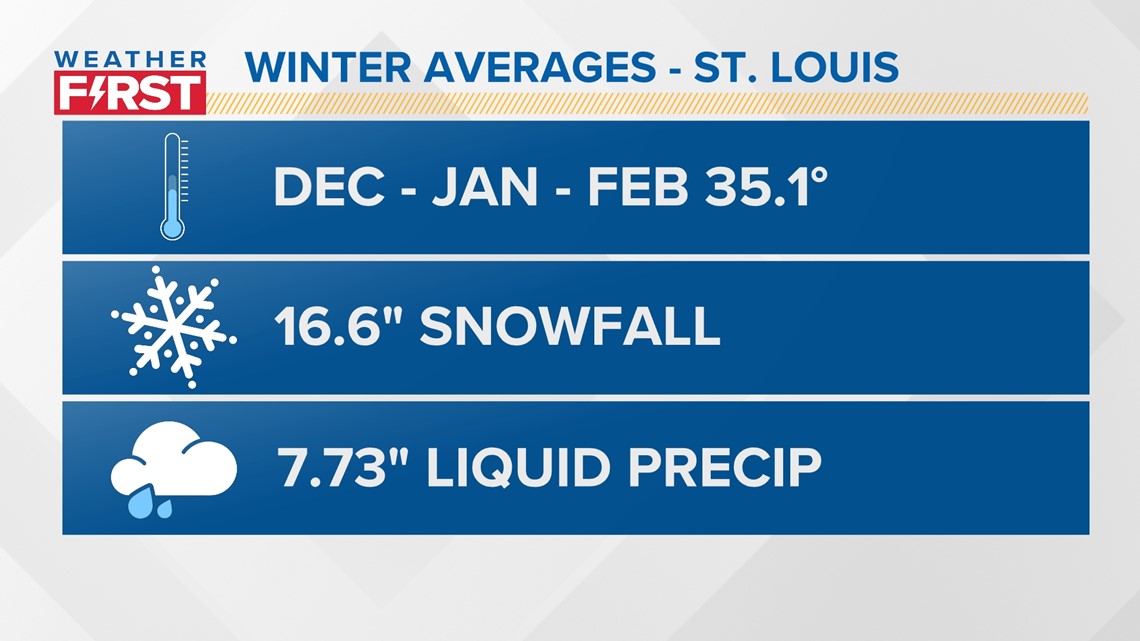 So, with all of that information, what does each meteorologist on the Weather First team think will happen this year?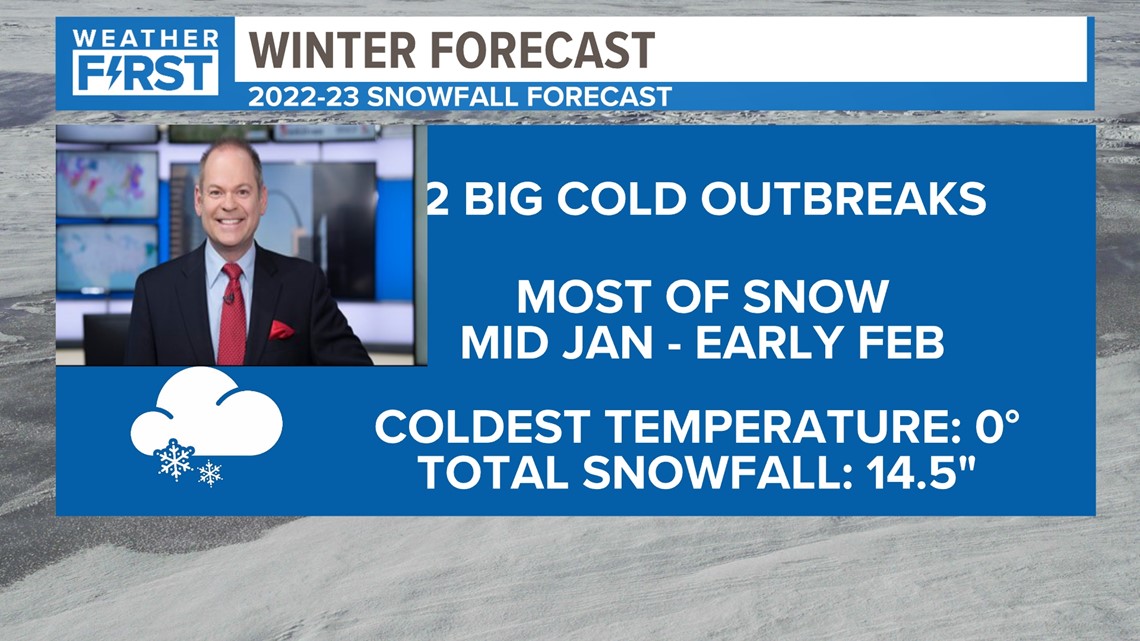 Scott: I think most of the season is right around average, temperature wise. We'll have two cold outbreaks and most of our snow comes in mid-January and early February. Our coldest temperature all season is right around 0 degrees.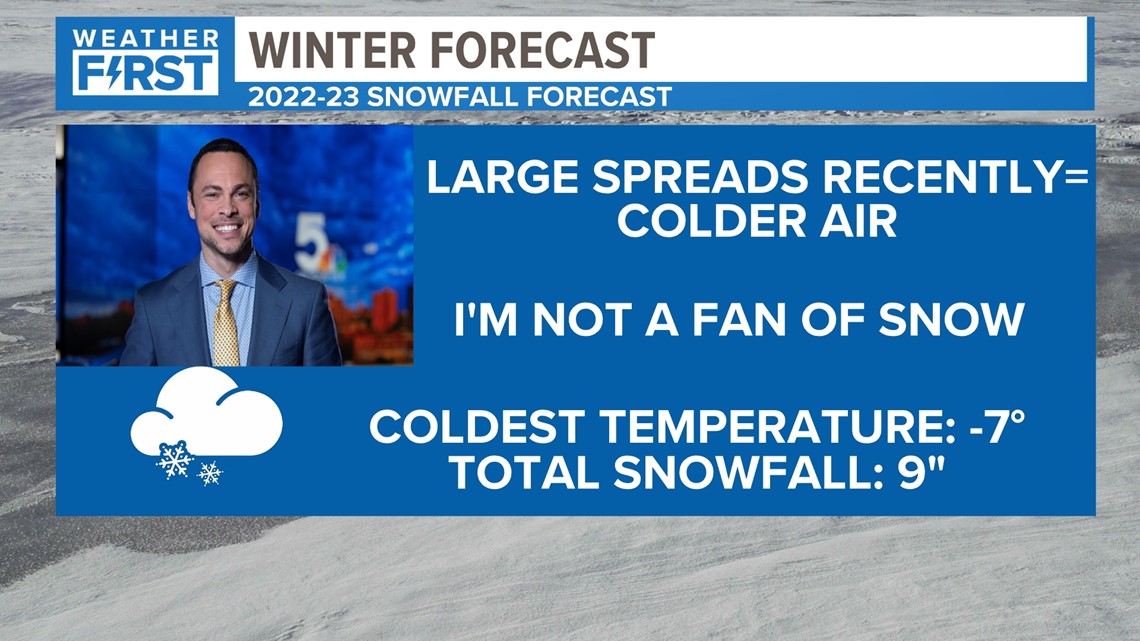 Anthony: We've had a lot of large spreads recently when it comes to temperatures, and I think the winter is no different. As a result of the larger spreads, I think it's likely we'll have winter low of around -7 degrees. I'm not a fan of snow, so I am "wishcasting" only 9 inches (or less) for the season!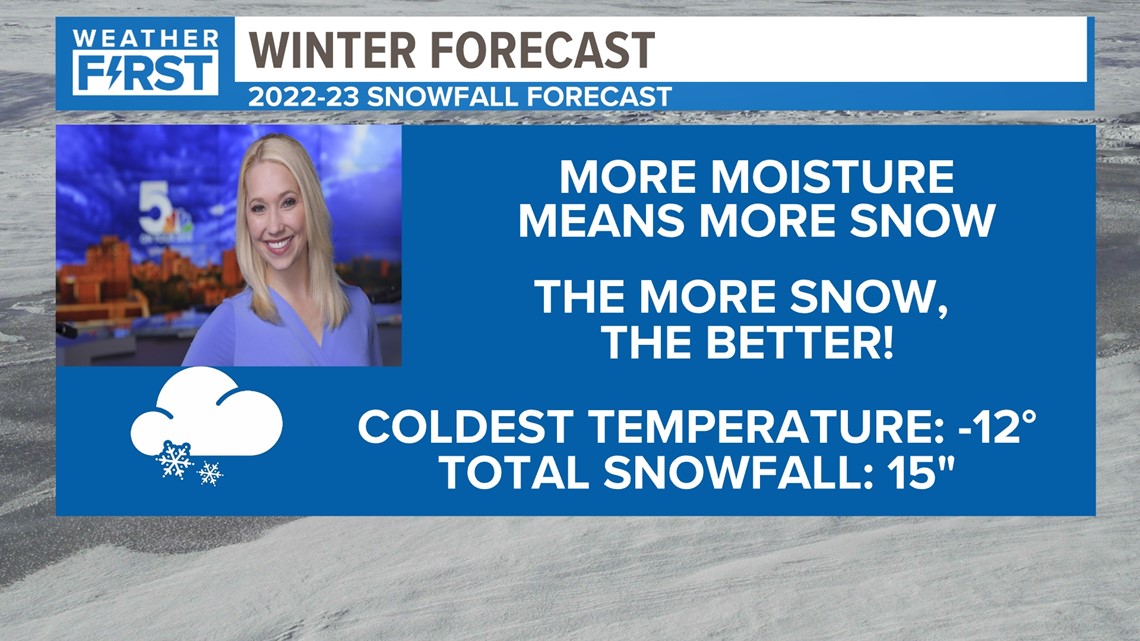 Tracy: Based on our rain events this year, I'm hoping we get some significant snowfall. While we no doubt will have some very dry weeks, I think when we do get snow it will really come down. I obviously love the winter, so I'm rooting for the extreme cold and snow!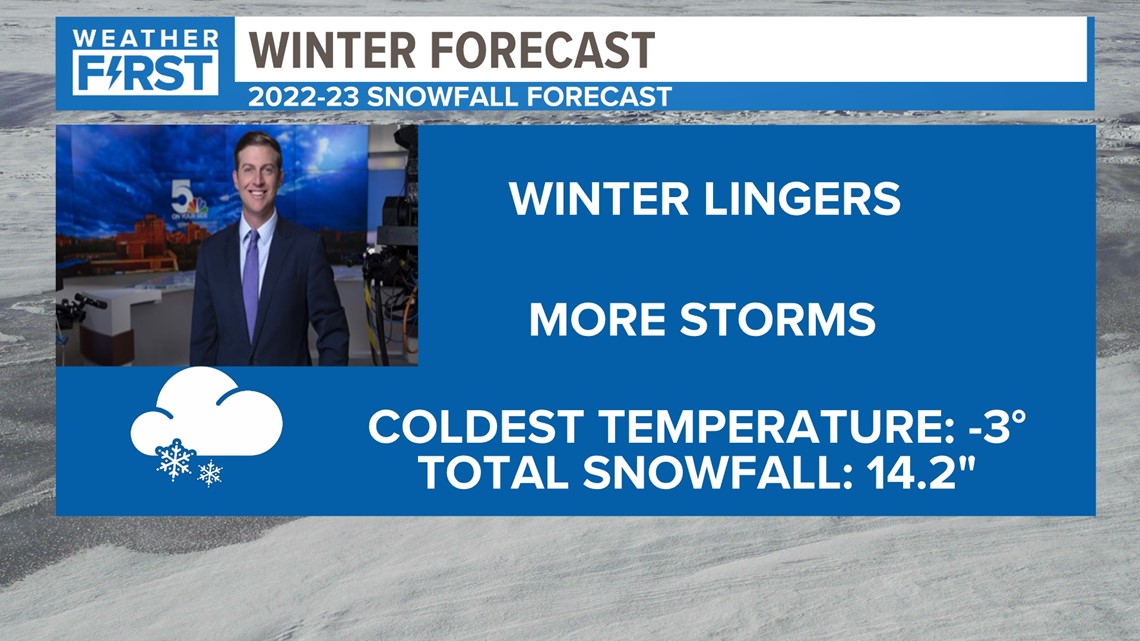 Garry: While the La Nina pattern is tough to ignore, it's still hard to get away from what's occurred here and in the Midwest for the last 4-5 years. There have been plenty of cold snaps, but no moisture. When we have moisture, it's often too warm and we don't really get snow. I think our odds this year of a couple of different higher end snowfall events (4 inches+) are more likely. But I still expect we continue the recent drought to some degree as well. We didn't have snow for the first time in the state in November for 4 years. That's at least a sign we have something a little different. But as the winter continues to linger over the last few years, we can't get rid of snow chances until March.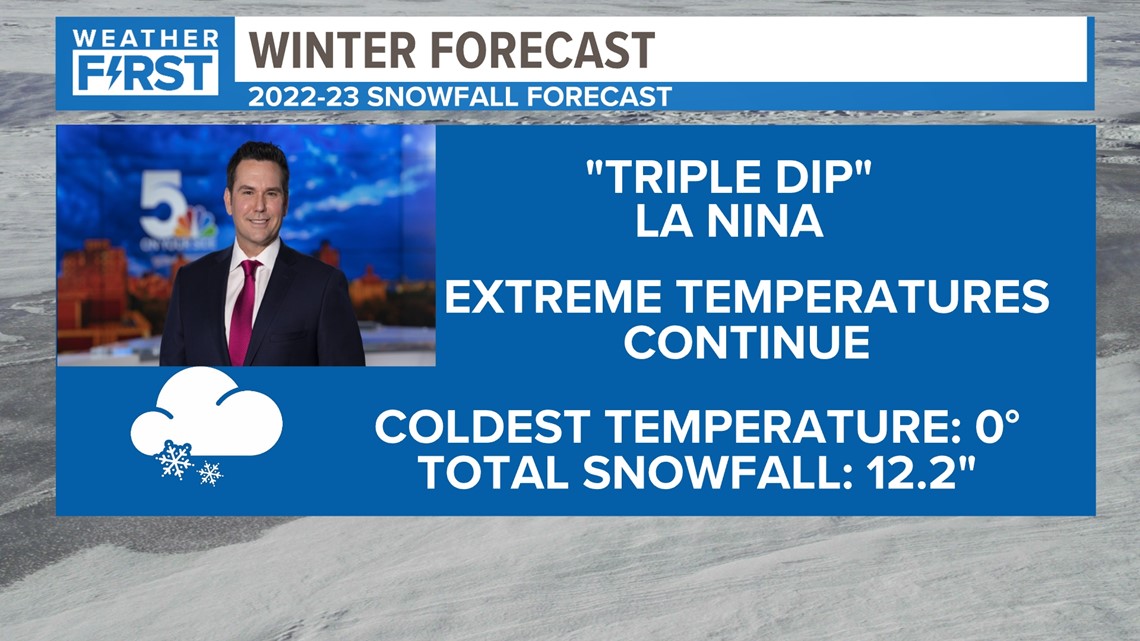 Jim: The "triple dip" La Nina should signify a pattern where we continue to see these extremes from well above average to well below average throughout the season. Below average snowfall as our drought continues, relatively speaking, with a season low around 0 degrees.
Keep following along with this article over the next few months. You can hold us accountable and check in when winter is (hopefully) over by March.
What kind of winter season are you rooting for? Let us know what you think. Regardless of whatever kind of winter we experience, expect your Weather First team to keep you informed and up to date!