ST. LOUIS — Widespread thunderstorms and hail touched down in the St. Louis region Friday, leaving damage across several area communities.
Multiple crews with 5 On Your Side have arrived at the scenes where there were reports of storm-related damage, including in Arnold, Missouri, and Columbia, Waterloo, Nashville, and Freeburg, Illinois.
Shortly before 10 p.m. Friday, a crash involving at least two tractor-trailers in downtown St. Louis closed westbound Interstate 44 near Memorial. Traffic was being rerouted off the interstate as first responders handled the scene. It has since reopened.
It is unclear if the crash was weather-related or if anyone was injured. St. Louis police said at least one of the semis was carrying paint.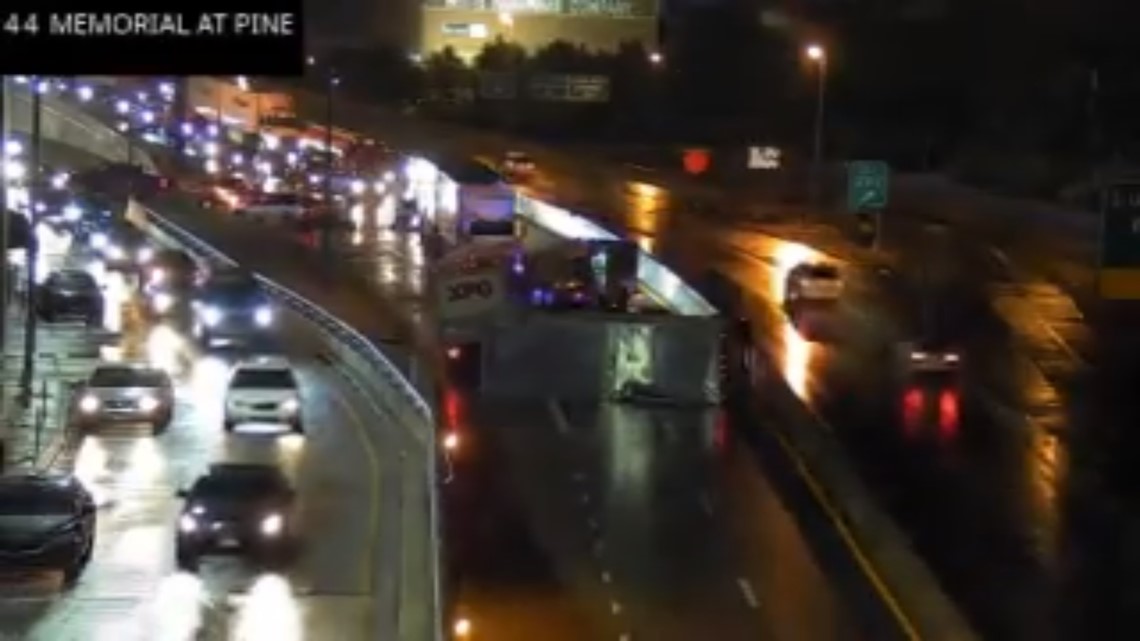 At about 7 p.m. Friday, winds overturned a tractor-trailer and tore through a fireworks stand in the Walmart parking lot in Arnold, Missouri. There were also multiple reports of car accidents, downed wires, and downed tree limbs in the surrounding community.
A spokesperson with the Jefferson County Emergency Management Agency said most of the county's damage spanned from Arnold to High Ridge, with power lines and trees down all throughout the area. As of 7:30, more than 5,000 people were without power, though it has been returned to some customers.
On Saturday, Arnold Parks and Recreation announced that the July 1 Independence Day celebration in Arnold City is canceled due to a power outage and unsafe park conditions. There is no rescheduled date at this time.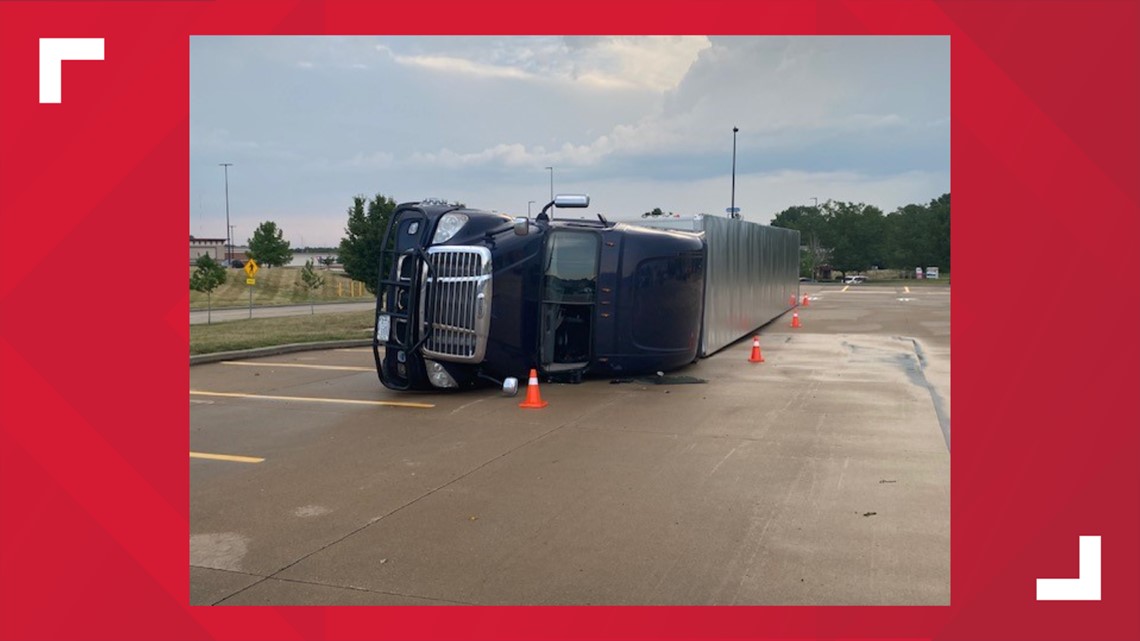 Monroe County Public Safety Director Kevin Scheibe said the Columbia, Illinois, area saw the most damage, and the rest of the county was mostly unscathed by the storms. One person was entrapped in a car when powerlines fell on it, but are now out with no reported injuries. There are no other reported entrapments.
Several downed powerlines and trees caused road closures around Columbia, Scheibe said, and there was a major traffic backup on Route 3 after powerlines were knocked down too low for tractor-trailers to pass.
There was also a report of a tree on a home on North Metter Avenue, as well as trees and power lines down at the intersection of St. Paul and Gardner streets.
Just before 8 p.m., authorities completely shut down the roadway along Rueck Road and Fairfax Street. A possible gas leak caused a building evacuation at the YMCA located at 9514 Caring Way. It's unclear if the severe weather is behind the suspected leak.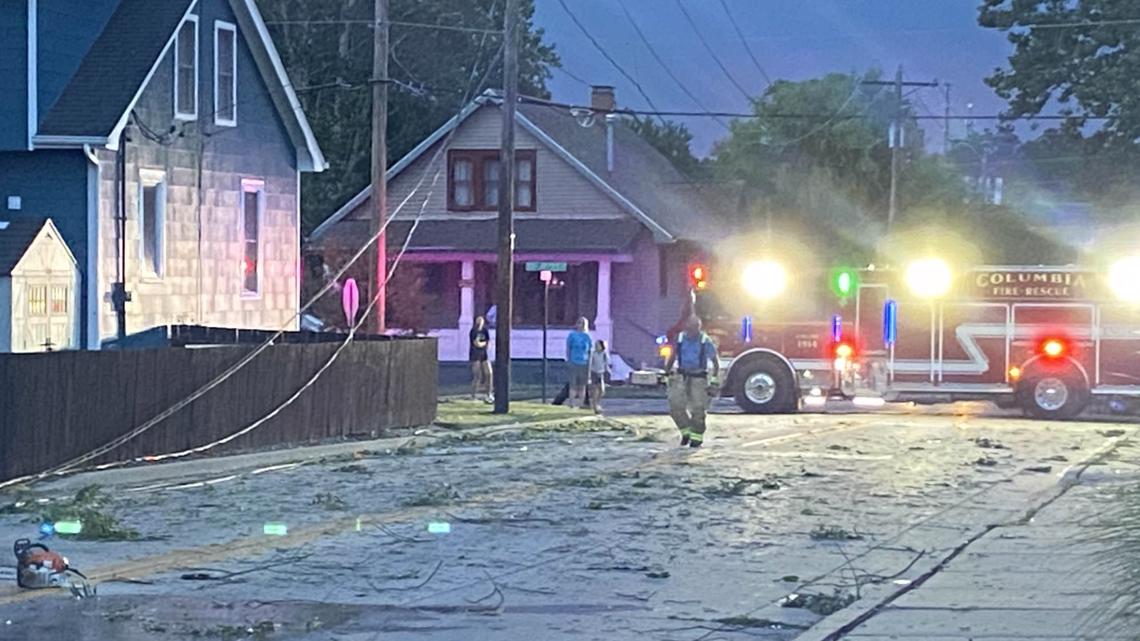 There are reports of an ongoing power outage in Waterloo in Monroe County, Illinois, as of Friday evening.
In Freeburg, Illinois, St. Clair County Emergency Management reported wind gusts of 69 mph, causing a power outage in the local community.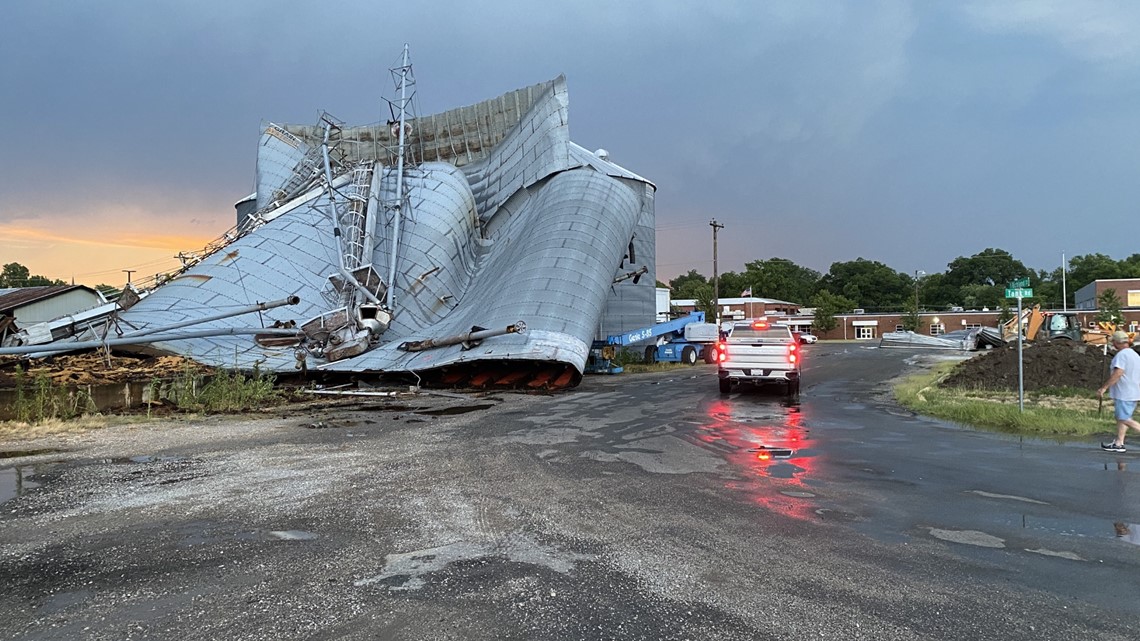 In Washington County, Illinois, Emergency Management Director Matthew Bierman said in a press release Saturday, the area experienced power outages, tree and structure damage, and road blockages due to severe winds Friday evening.
He also said with the power down, emergency shelters have been set up for use as cooling center locations. The Ashley Fire Department, the Okawville, and Lighthouse Community Church in Nashville have been converted into shelters to stay cool and stay hydrated in the heat and humidity.
Large hail up to 2" in diameter is possible and severe wind gusts to 70 miles per hour are the main threats.
A Severe Thunderstorm Warning was issued Saturday for the St. Louis area until 2:45 p.m. However, the warning has expired.
As of 7:30 p.m., Ameren reported 93,000 customers in Illinois without service and 14,000 in Missouri without service.
5 On Your Side will update this story as soon as information becomes available.
Download the free 5 On Your Side app to get the latest watches and warnings and track conditions live with our interactive radar.
PHOTOS: Storm damage, hail in St. Louis area