ST. LOUIS — Another restaurant in St. Louis' Central West End neighborhood has shut its doors.
Bar Louie abruptly closed on Saturday.
The gastropub restaurant suddenly closed up shop after the national chain filed for bankruptcy. In all, Bar Louie closed 38 locations across the country.
"To our loyal guests, our last day of business was January 25th, 2020. Please visit us at our St. Charles location or go to www.barlouie.com/locations to find the Bar Louie nearest to you. Thanks for the memories!" it wrote on Facebook Sunday morning.
5 On Your Side spotted a 'Thanks for all the memories' sign outside of the restaurant Monday morning.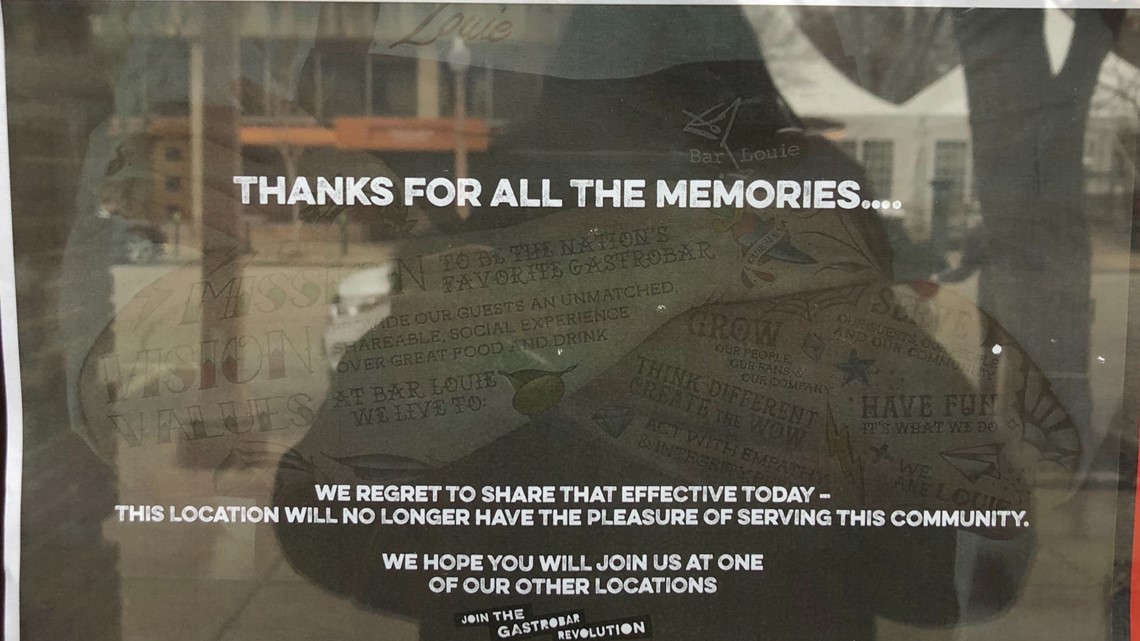 According to its website, the Kirkwood, St. Charles and Chesterfield locations remain open.
Earlier this month, 1764 Public House abruptly closed. It said its resources were "spread too thin."
In December 2019, Culpeppers Bar and Grill closed. The Saint Louis Chess Club, which shares the building with Culpeppers, announced it would be leasing the restaurant's space along with the spaces that are currently home to the adjacent FroYo and Brennan's. The Chess Club said Brennan's plans to move to a larger location in the Central West End.
Drunken Fish's manager, Billie Kilts, said they've been in their Central West End location for 15 years. She said losing restaurants can be tough on neighboring businesses.
"Having places around for more people to go, it has more eyes to the neighborhood, more visitors to the neighborhood," Kilts said. "It gives an impression of the neighborhood that things are going down in the area."
But she's hopeful another restaurant will come in and dish out even more memories.
"We're going to miss Bar Louie, but hopefully more places will move in soon," she added.
What's Cookin' in the Lou