ST. LOUIS — A popular St. Louis restaurant is taking brunch to the next level.
Meet (or should we say meat?) the new shareable bloody mary, 'The Bigger the Tin the Better.' It's being served at Grand Tavern by David Burke.
The drink is 46 ounces, and, yes, it's served in a giant Campbell's tomato juice can. It doesn't just come with the typical celery stick, it's loaded with 12 ingredients:
38 ounces tomato juice
8 ounces 1220 Spirits vodka
4-ounce filet mignon
8-ounce chuck burger
Candied bacon
Two shrimp cocktails
Corn on the cob
Boiled egg
Celery
Dill pickle
Tempura tomato
Tempura mozzarella
If that's not enough, you get two Full Life lagers from 4 Hands Brewing Co. on the side. And, if you like it spicy, it comes with the cutest little Tabasco bottles you've ever seen.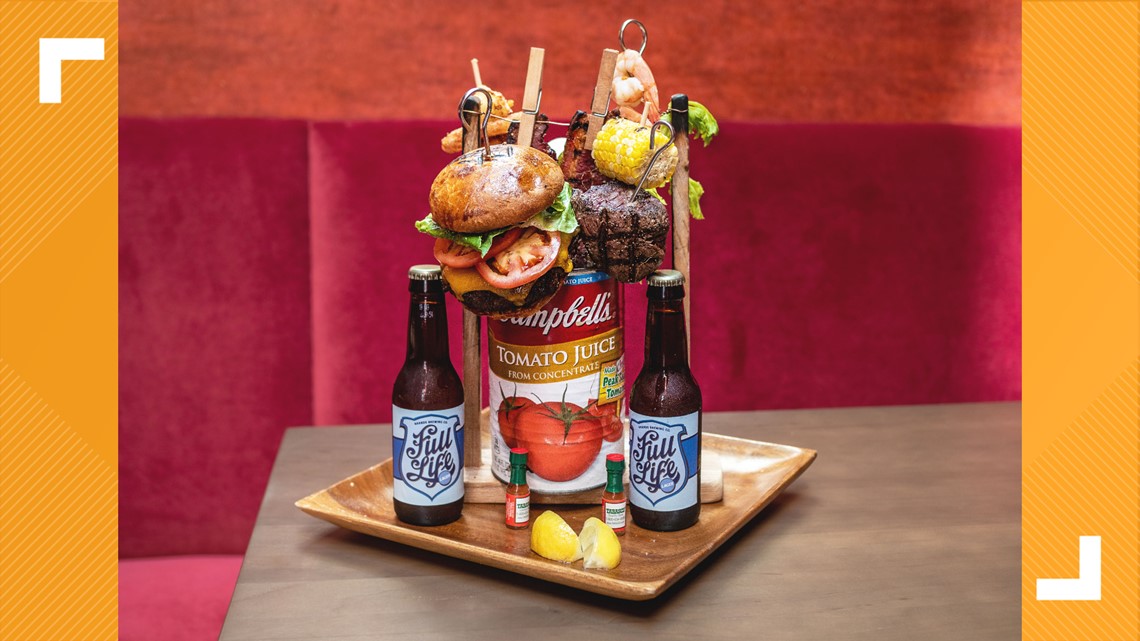 Grand Tavern's beverage director, Meredith Barry, said she wanted to celebrate one of the world's most famous brunch cocktails while creating an experience that friends can share together—all while impressing any bloody mary connoisseur.
Grand Tavern by David Burke is located at 626 North Grand Blvd in the Angad Arts Hotel. Earlier this year, the restaurant launched a bottomless 'Brews + Blues'-themed brunch, which features live music and local breweries.
What's Cookin' in the Lou: