ST. LOUIS — There's a saying in law enforcement about how nobody hates a bad cop more than a good cop because what bad cops do is make a good cop's job that much harder every day.
First Assistant U.S. Attorney Carrie Costantin said Thursday it's cops like Christopher Myers, Dustin Boone and Steven Korte that belong in that bad cops category.
They have been on trial since March 15 for their alleged roles in assaulting an undercover colleague during the Sept. 17, 2017, protests.
Costantin's commentary came during her closing arguments. Two of the three defense attorneys also gave their closing arguments after resting their case earlier in the day, saying Costantin's case is based on nothing more than speculation, rumor and "junk."
Each of the accused faces up to 10 years in a federal penitentiary and a $250,000 fine if convicted. The jury is expected to begin deliberations Friday afternoon.
"This case is not about being pro-police or anti-police," Costantin told the jury. "Their actions are not a reflection on all police officers, don't go down that rabbit hole of pro-police or anti-police.
"What they're doing is making police officers' jobs harder every day."
Myers and Boone are no longer St. Louis police officers. Korte is. All three declined to testify on their own behalf.
All three have been charged with deprivation of rights under the color of law for their roles in the alleged assault on Officer Luther Hall.
Two other officers, Randy Hays and Bailey Colletta, have already pleaded guilty to their roles in the assault.
Defense attorneys took about a day to get through their witnesses, which at one time numbered as many as 30.
Thursday began with some tense moments between Costantin and Capt. Michael Deeba, who took the stand on behalf of the defense.
Deeba said the officers who fed Hall information about who assaulted him that night, providing him pictures and names they gathered, should face discipline because "tainting" an investigation is a fireable offense. He said it was improper for any of Hall's friends to be conducting a rogue investigation because they could not be impartial.
He also said he believed Hall and his partner Louis Naes should have blown their cover as soon as they didn't feel safe — or the moment they started running and split up because pepper balls were coming at them.
"Is that a violation of protocol?" Costantin asked.
"We'd have to check, but it's a violation of common sense," Deeba said.
"Would IAD (internal affairs division) be investigating them?" Costantin asked.
"I can't speak for IAD," he said.
Deeba said "officer safety is paramount," but Costantin noted how Hall and his partner were not given "safe words," to say if they ran into other officers.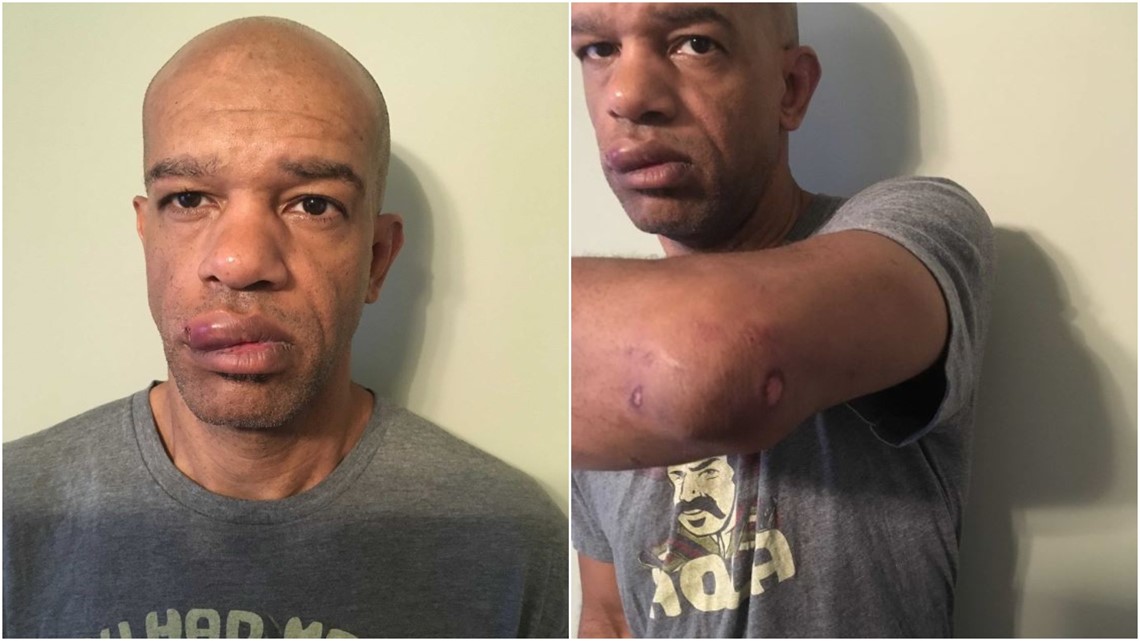 Sgt. Anthony Caruso also testified on behalf of the defense. He said he did not see Korte near Hall on the night in question or see anyone kick Hall as Korte has been accused of doing.
He said he saw Hall get knocked to the ground "like a hockey check, but without the stick," but didn't know which officer did it.
He said he didn't see anything concerning about how officers handled Hall in his presence, and he was the one who put Hall in flex cuffs.
"The only thing that concerned me was he wasn't in flex cuffs by the time I got over there," Caruso said. "I thought he should have been, but it was a stressful situation."
Costantin then asked Caruso if there were things he might not have seen go on.
"It's possible," he said.
She handed him a baton, and asked: "If there is video showing Hall was struck with that, you wouldn't dispute that?"
Attorney Scott Rosenblum is representing Myers, and has largely led the defense team's questioning.
Myers is accused of destroying Hall's cellphone in an attempt to cover up any evidence it may have captured of the beating.
Rosenblum called prosecutor's theory about how he did it "ludicrous," and said it doesn't make sense for someone who is trying to destroy evidence to put it back in Hall's backpack, "instead of throwing it in the sewer or putting it in his own pocket where it would never be found."
And, he claimed his client had no way of knowing the arrest would ever become the subject of an investigation at that moment because many of the officers who testified during the trial said they didn't see anything wrong with how it went down.
He also claimed the sequence of photographs, videos and Hall's own cellphone video shows Myers wasn't near Hall during the alleged assault, and said he got Hall to admit an object lying feet away from him could "possibly" be his cellphone.
"We know that it was," Rosenblum told the jury.
Rosenblum pointed at Sgt. Joseph Marcantano as the person who kneed Hall in the back as he was sitting handcuffed on the curb, trying to shift his weight to be more comfortable.
He also reminded the jury about the inconsistencies in Randy Hays' statements, telling the jury he is the guy who will do anything and say anything for a deal with the government.
Hays is awaiting sentencing and prosecutors can write a letter urging the judge for leniency if he cooperates.
Rogers, who is defending Korte, also honed in on Hays' testimony, saying the prosecution's star witness and star witness No. 2 directly contradicted each other.
Hall said he was not kicked in the face, while Hays said he saw Korte kick Hall in the face.
"I appreciate that Mr. Hall never acknowledged that he was kicked, but you can't have it both ways," Rogers said.
He continued: "Can you imagine, for one second, being completely innocent like Korte? There were 120 interviews done in this investigation and not one of them implicated you and what stands between you and being a convicted felon is Randy Hays. That's it."
Both attorneys spent much of their closing arguments also reminding the jury about how much of the investigation was based on "speculation and rumor" that was flying around the department.
"If you're putting on junk and unreliable witnesses, you get to hear the words, 'Not guilty,'" Rogers said.
Patrick Kilgore, who is representing Boone is expected to finish his closing argument Friday, followed by the prosecution's rebuttal.
Then, the case will go to the jury.
Previous coverage: