Missouri primary 2022: Voter guide for St. Louis area
5 On Your Side identified the hot races in the St. Louis region and reached out to the campaigns to find out where they stand on several issues important to voters.

On Aug. 2, Missouri voters will head to the polls to select candidates who will carry their party banners into the general election this fall. In many races, the nominee of the August primary will face little to no opposition in November, making this upcoming race a decisive one.
5 On Your Side has identified the most hotly contested and consequential races in the St. Louis region and reached out to the campaigns to find out where the candidates stand on nearly a dozen issues important to voters. We reached out to all candidates in competitive races with publicly available contact information. Each candidate in a given race was provided the same set of questions. You will find their answers in both print and video in our Decision 2022 Voter Guide. Uncontested primary races are not listed.
How to vote
Polls open at 6 a.m. and close at 7 p.m. Those who are in line by 7 p.m. will be allowed to vote. Before election day, you should check your voter registration and polling place, as well as research what races and issues will appear on your ballot.
Senate
:
Sen. Roy Blunt retires
Missouri's First Congressional District
:
Primary expected to decide election
Republicans in the Missouri House and Senate drew new boundaries around the First Congressional District, but the partisan makeup of the voters living in it remains roughly the same. Due to the volume of Democratic-leaning voters living in this district, the primary election is widely expected to be the contest that decides which candidate will win in November.

Democratic Primary
Cori Bush

Freshman U.S. Representative Cori Bush will face the voters for the first time as an incumbent after she pulled off a political upset and toppled the Clay family dynasty that represented St. Louis in Congress for half a century.
Bush, a Ferguson activist, has formed political alliances with a progressive group of Democratic women in Congress and refers to herself as a "politivist," or a politician activist. Her style of amplifying the voices of protesters in the halls of Congress has rubbed some politicians the wrong way, and yet has resonated with some grassroots activists in her district.
Steve Roberts

Attorney and Air National Guardsman Steve Roberts served two terms in the Missouri House before his 2020 election to the Missouri state Senate. Roberts has disputed explosive allegations of sexual assault from two women, including a late former member of the Missouri House.
His campaign has courted support from law enforcement, Jewish groups, and former Congressman Lacy Clay. He argues he would be less of an agitator and more of a legislator than Rep. Bush has been.
Earl Childress
An ordained pastor, Childress is a St. Louis native. He is running to unseat Cori Bush and is campaigning on reducing crime in the city. He says one of his first priorities in office would be to provide opportunities to people who were recently incarcerated.
Michael Daniels
St. Louis personal injury attorney Michael Daniels launched his campaign for Congress promising to move the city forward through "strategic economic partnerships with our underserved communities."
Ronald Harshaw
"Ron" Harshaw is running for Congress and promises on Twitter to "tell it how it is." He marched with abortion rights groups following the overturn of Roe V. Wade and says Cori Bush's term has been full of broken promises.
Republican Primary
Andrew Jones Jr.
Jones labels himself a "Business leader. Not a politician." A resident of Botanical Heights, he is an executive at Southwest Electric. He is campaigning on parental rights in education and spending cuts in the federal government.
Steven Jordan
Jordan will appear on the ballot but shows little to no signs of public campaign activity.
Laura Mitchell-Riley
Mitchell-Riley will appear on the ballot but shows little to no signs of public campaign activity.
Missouri's Second Congressional District
:
Redistricting gives Republican advantage
This second congressional district now covers areas south and west of the greater St. Louis area, touching St. Charles, St. Louis, Warren and Franklin counties. What was once a toss-up district now includes more reliably Republican voters. Republican Ann Wagner has been in office since 2013. A small field of Republicans looks to unseat the incumbent. Two Democrats are facing off in the district.

Republican Primary
Ann Wagner

U.S. Rep Ann Wagner (R-MO 2nd District) has worked in the Republican party and on GOP campaigns since the 1990s. She voted on party lines on the big issues, including voting against both impeachments of former President Donald Trump. She did break with the majority of the GOP on a recent House vote to protect interracial and same-sex marriage. The Ballwin resident served as the United States ambassador to Luxembourg in 2005 during President George W. Bush's administration. She was Chairperson of the Missouri Republican Party from 1999 to 2005.
Paul Berry

Berry is leaning into mottos popularized by former President Trump and calling on voters to "drain the swamp." He is anti-abortion and against COVID prevention mandates. Berry previously ran for U.S. House in Missouri's First Congressional District in 2016.
Tony Salvatore
The military veteran is recently retired from a career with an airline. He fears the country is headed for a redistribution of wealth. He repeatedly decries the "New World Order" in politics and American culture.
Wesley Smith
Branding himself the "Wolf of Washington," Smith is a proponent of the Second Amendment. He believes in reforming the prison system and re-establishing rights for those who were incarcerated. His hometown is Arnold, Missouri.
Democratic Primary
Trish Gunby

Missouri Rep. Trish Gunby (D-99) is calling for a "new day" in Missouri's Second Congressional District. She is pushing for a universal healthcare system that supports Americans and halts medical debt. She calls the Supreme Court decision to overturn Roe V. Wade "disastrous."
Raymond "Ray" Reed

Reed identified "healthcare, jobs and justice" as his platform. Raymond "Ray" Reed believes in regulating social media to stop the spread of misinformation. From a proud union family, Reed grew up in the Brentwood area. At 25 years old, Reed is leaning into representing Gen Z in the U.S. House of Representatives.
Missouri's Third Congressional District
:
Luetkemeyer works to retain his job
Cities in the new 3rd District map include St. Charles, parts of O'Fallon, Jefferson City, and parts of Lake Ozark, and parts of Columbia. Sections of Franklin, Lincoln and Warren counties that used to be in the 3rd District are now a part of the 2nd District. Once represented by Dick Gephardt, Missouri's Third District leaned Democratic for decades until U.S. Rep. Luetkemeyer's election in 2004. In 2020, voters in the district voted for former President Donald Trump by 67%.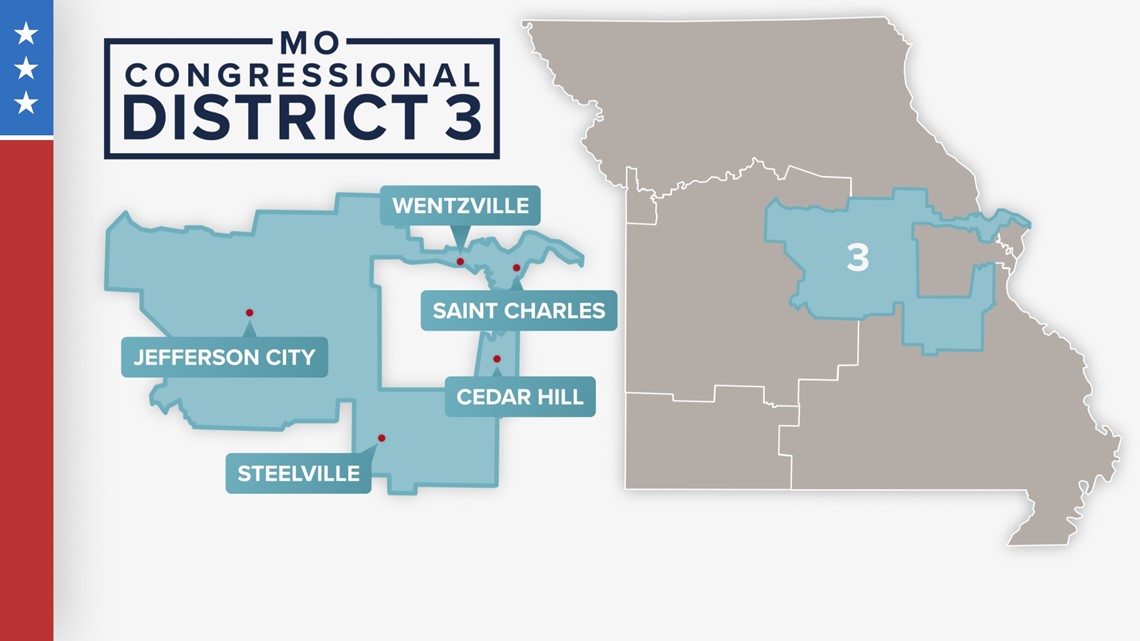 Republican primary
Blaine Luetkemeyer

U.S. Representative Luetkemeyer (R-MO 3rd District) is seeking his seventh term in office. The congressman is campaigning on job creation, cutting taxes and federal spending, and energy independence. In 2019, the U.S. House voted to re-impose net neutrality rules. Luetkemeyer voted against this regulation. Luetkemeyer twice voted against impeaching former President Donald Trump.
Before the U.S. House, he served as Missouri Tourism Director. He is from Jefferson City and operates a farm.
Dustin Hill
The military veteran served in the Marine Corp in Afghanistan and Iraq. His platform takes aim at economic policies that he says devalued the dollar, raised gas prices and funded a "population management" stratus of society.
Richard Skwira Jr.
Skwira does not appear to have an active campaign.
Brandon Wilkinson
The truck driver aligns himself with former President Donald Trump's economic policies that cut taxes and deregulated certain sectors. He says he is uncompromising when it comes to the Second Amendment, and has campaign videos shot at the gun range. Wilkinson also ran against Luetkemeyer in 2020. He lost, but netted 16,000 votes in the primary.
Democratic primary
Andrew Daly
Daly is running a campaign on his own pushing for raising the minimum wage, funding education, supporting abortion rights, and other liberal themes. Daly is a deaf person and his campaign on social media features videos of him signing American Sign Language with English captions describing his platform.
Dylan Durrwachter
Durrwatcher does not appear to have an active campaign.
Jon Karlen
The New York native is campaigning on infrastructure improvements for rural communities, the prevention of gerrymandering, and codifying abortion rights. His website says he believes in the Second Amendment, but calls gun violence a humanitarian crisis.
Bethany Mann
Mann's leading issues are education, infrastructure, healthcare, voting rights and the environment. She has agricultural themes, pushing for fair trade for farmers and references the ag industry's intersection with climate change.
St. Louis County Executive
:
Incumbent Page running for re-election
The primary election for St. Louis County Executive features a referendum on the incumbent, Dr. Sam Page, who came to power in the wake of a federal corruption scandal that felled his predecessor Steve Stenger. Now, federal agents are once again poking around county government offices, and have already brought criminal corruption charges against one of Page's closest political aides.
Page enters the primary with both the benefits and the baggage of the incumbency. After a term that included a brutal pandemic and a rise in crime, his Democratic challenger Jane Dueker has unleashed a string of criticism attacking Page's judgment, transparency, and leadership style. Page has defended his term in office, and has bristled at Dueker's criticism. He has refused to debate her, opting instead to run a more careful campaign.
Democratic Primary
Sam Page

St. Louis County Executive Sam Page, a medical doctor, has promoted his health care credentials and his record guiding the county government through the pandemic. He also campaigned on an anti-corruption platform, highlighting his role as Chair of the County Council during the hearings investigating the former Stenger administration.
Page's rivals on the county council have grilled him for handing out patronage jobs to political workers. His campaign introduces him as "Dr. Sam," presenting him as warm and approachable, while his detractors say he's used his power to protect himself and his political allies.
Jane Dueker

Jane Dueker, a government attorney by trade, started her legal career as an Assistant Attorney General and later advised Governor Bob Holden as his Chief Legal Counsel and chief of staff. More recently, she's taken stints with corporate law firms and lobbied state lawmakers on behalf of police unions.
Dueker has taken a scorched earth approach on the campaign trail, challenging every aspect of Sam Page's administration, including his personal character, leadership, and effectiveness. Her Twitter handle says, "I am not Sam Page," and her campaign strategy has followed that exact template, portraying herself as the anti-Page candidate on the ballot.
Republican Primary
Shamed Dogan

State Representative Shamed Dogan, a moderate Republican, served four two-year terms in Jefferson City. Now that term limits have ejected him from the House, he has his eyes on a job closer to home at the county government building in Clayton.
Dogan, who warned against the rise of polarization in politics during his farewell speech on the House floor, sees a path to victory for a bipartisan legislator in a year where national political sentiments could swing against the party in power in Washington.
In the statehouse, Dogan chaired the House Special Committee on Criminal Justice and focused most of his efforts on education, ethics, and public safety.
Katherine Pinner

The local Republican activist could not be reached for comment. Her professional website describes her as an author and consultant, but her political campaign shows little signs of public activity or fundraising.
St. Louis
:
Voters deciding on 2 issues, alderman
Along with state and federal races, St. Louis residents will vote on two local ballot issues. Ward 21 will also vote to fill an aldermanic vacancy.
Proposition F

Shall Section 24 of Article IV of the City's Charter be changed to increase the maximum fine for violations of City ordinances regarding preservation and protection of environmental conditions for preventing harm to the health, safety, and comfort of City residents or harm to private or public property such as unauthorized dumping of waste or debris on private or public property, prohibited refuse, waste tire disposal, and the like from $500.00 to $1,000.00?
A yes vote would support doubling the maximum fine from $500 to $1000 for violations of city environmental ordinances, such as illegal dumping.
The proposition comes at a time St. Louis has had an unprecedented number of trash complaints. It would buckle down on people who illegally dump in the city's dumpsters, alleys and vacant lots.
"So it's really frustrating to folks, and the perception and perhaps the reality is that part of it is contractors and maybe other folks, possibly from the county, crossing over into the city and dumping," said 5 On Your Side Political Analyst Anita Manion.
Other contributing factors, Manion said, include shortages of waste removal staff as well as an increase in at-home shopping and take-out dining, which means people are throwing away more garbage than before the pandemic.
"All of those things have come together to create a real problem with trash in our city," Manion said. "And so this is sort of an effort to buckle down on those folks who are using the city's dumpsters and individuals' alleys behind their houses to get rid of their waste without paying for it."
Proposition S

Shall The Board of Education of the City of St. Louis borrow money in the amount of One Hundred Sixty Million Dollars ($160,000,000) for the purpose of acquiring, constructing, renovating, repairing, improving, furnishing and equipping school sites, buildings and related facilities in the District, including but not limited to (1) removing lead paint, fencing and other hazardous materials at affected schools, (2) upgrading mechanical systems to include replacement of outdated or obsolete equipment, temperature controls, and duct cleaning to increase ventilation, (3) upgrading building infrastructure by replacing roofs, tuck-pointing, waterproofing and window replacements, (4) improving security systems to increase student safety by installing fire alarm systems and replacing interior and exterior doors, (5) upgrading technology to modernize classrooms and improve academic performance, (6) improving building conditions by renovating restrooms and other ADA improvements, and (7) increasing learning opportunities by creating outdoor learning spaces and making improvements to playgrounds and athletic fields and facilities, and issue general obligation bonds for the payment thereof?
If this proposition is approved, the adjusted debt service levy of the school district is estimated to remain unchanged at the current rate of $0.6211 per one hundred dollars assessed valuation of real and personal property.
The proposition would support the St. Louis Board of Education borrowing $160 million to fund a wide range of repairs and renovations in the Saint Louis Public School District, including security system upgrades, lead removal and ADA improvements. It would not change tax rates.
In Initial project allocations for the funding's use, a large portion of potential spending would go to HVAC upgrades, restroom renovations and "building envelope" work such as hazardous material abatement, waterproofing, and roof and window replacements.
"The St. Louis city schools have gotten COVID relief money, but usually that's not allowed to be used for these buildings type of improvements. So that's why they need a separate bond issue," Manion said.
The bill has widespread support from teachers unions and school district leaders, as well as the city comptroller. St. Louis voters have a history of approving similar bond issues to improve their schools, Manion said.
The district has complained of losing millions in much-needed tax revenue in recent years due to tax breaks given to developers.
"Those TIFS and tax abatements, what they do is alleviate some of those property taxes that developers would have to pay," Manion said. "Well, the personal property tax is what goes to fund the schools."
Ward 21 Alderman
Aug. 2, 2022, is also the date of the Ward 21 Aldermanic vacancy special election. In addition to a primary ballot, voters in Ward 21 will be handed a special election ballot to decide who will fill the remainder of former alderman John Collins Muhammad's term, which expires in April 2023.
Four contenders are facing off for the seat of Collins Muhammad, who resigned in May after he was federally indicted in a pay-to-play scheme along with then-Board President Lewis Reed and Alderman Jeffrey Boyd.
The Central Democratic committee endorsed Laura Keys, who has previously run against and lost twice to Collins Muhammad. Running as independents are former alderman Melinda Long, former carpenter union official Joann Dyson Williams, and newcomer Ebony Moore.